Bathtub Installation in Apple Valley & Eden Prairie, MN
Your bathtub is a place to relax at the end of a long day. Bathtubs are great for their practicality and for the relaxation that they offer. To get the best bathtub for your remodeled bathroom as well as superior bathtub installation services in Afton, Bay City, Carver, Downing, Elmore, and other cities throughout the Greater Twin Cities area, you can rely on the certified craftsmen from Great Lakes Home Renovations.
At Great Lakes, our IICRC-certified technicians focus on quality products and elite customer service. From your custom bathroom design ideas to your shower enclosures, we handle every aspect of your bathtub installation in Edina, Bloomington, Minneapolis, or St. Paul. To learn more, call 952-204-9646 or click here to make an appointment for a bathroom upgrade today! We provide free estimates.
Custom Bathtub Options by Great Lakes in the Twin Cities
We handle all aspects of a custom bathtub installation, consulting with you regarding:
The advantages & disadvantages of different design options
The advantages & disadvantages of different materials
The most effective location for your bathtub within the room
Any code requirements related to a bathtub installation
The best types of faucets and other fixtures for your bathtub
We'll carefully oversee the installation of all fixtures, tying into existing plumbing systems, when necessary, or designing and installing new systems, when appropriate.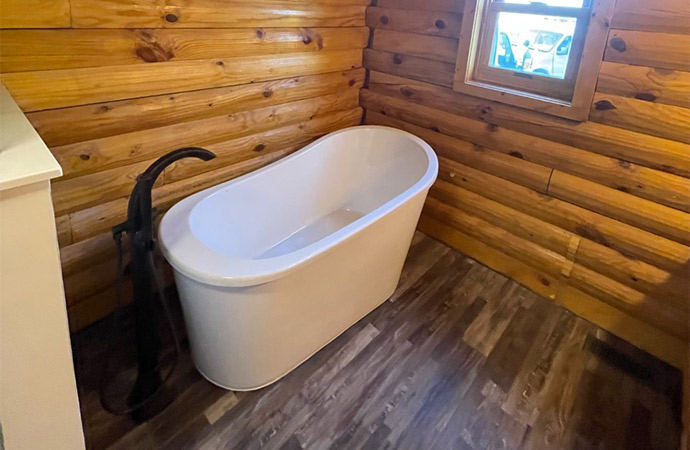 Trust Us for Bathtub Installations in Minneapolis & St. Paul
Bathtubs should last for years, and we'll make sure you trust our installation by providing a 100% satisfaction guarantee. At Great Lakes Home Renovations, we're proud to be a locally operated company that supports local plumbers. All our locations are independently owned and operated. This means that the plumbers who come to install your bathtub are members of your community! When you need our help, we can provide bathroom design ideas, shower design ideas, tub to shower conversions, bathroom vanities, window replacement, door replacement, and more for your home in Frost, Hamel, Winsted, and throughout the Twin Cities area. To learn more, call 952-204-9646 or click here to schedule a reservation today.