Guest Bathroom Remodel in Bloomington & Minneapolis, MN
Having an extra room in your home for guests is always a good thing. However, the addition of a guest bathroom can make your house an even more welcoming space for a good number of reasons. You can provide all the amenities needed for someone to have a comfortable stay, which is especially helpful if your guest has special needs. Additionally, hosting a house party with several guests becomes less of a hassle because people already have a designated bathroom to use. 
However, a guest bathroom requires certain elements to be suitable for guests to use. Whether you're planning to have someone rent out space in your house for the long-term or you simply want your home to feel more comfortable for everyone, you should aim to make the guest bathroom as accessible as possible. This means taking the time and doing a bit of research yourself when it comes to the design and functionality of the guest bathroom. 
If you already have an extra bathroom in your home, the renovation will simply require a few fixtures to be installed. On the other hand, turning a space into a bathroom is a more complicated task as it involves plumbing work and remodeling. Fortunately, our team at Great Lakes Home Renovations can get the job done for you. We have more than 2 decades of experience with bathroom renovations, including: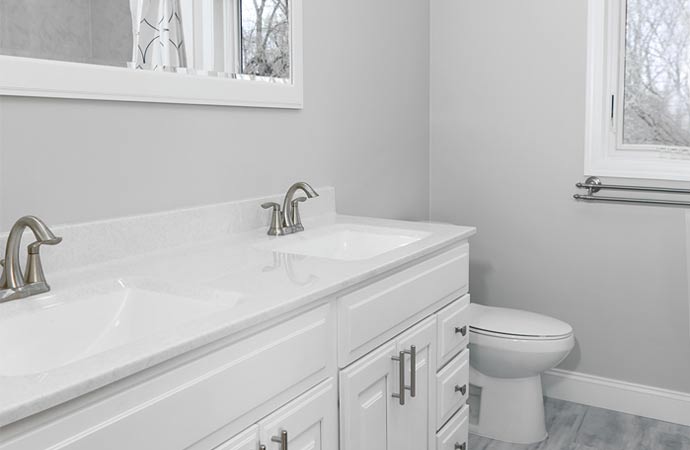 Installing or renovating a guest bathroom can be difficult for any homeowner to take on by themselves. Fortunately, we can assist you with all the planning, paperwork, and designing so your bathroom remodeling project can be a breeze. You can rely on us to give you the results that you want without going over your budget.
Let Us Renovate Your Guest Bathroom in St. Paul & Coon Rapids
Design a guest bathroom that will make your friends and relatives feel right at home with help from expert designers at Great Lakes Home Renovations. We also offer other home improvement services such as door and window replacement. Just call 952-204-9646 or use our Contact Us page so we can get the ball rolling. Our company serves property owners in Monticello, Coon Rapids, Lafayette, and other areas around the Greater Twin Cities.