Bathroom Remodeling in Ellsworth, MN
When it comes to bathroom remodeling and upgrades, you want the outcome to be exactly what you asked for and Great Lakes Home Renovations is the bathroom remodeling company to trust. Look no further if you are a homeowner looking for high-quality products and services at competitive pricing for your bathroom remodeling project in Ellsworth, MN.
Whether you are looking for Re-Bath products for a newly renovated bathroom or if you need to replace your entrance door or windows, we are here to assist you. Contact Great Lakes Home Renovations today at 952-204-9646 to get a free estimate!
Benefits Offered by Great Lakes Home Renovations for Bathroom Remodeling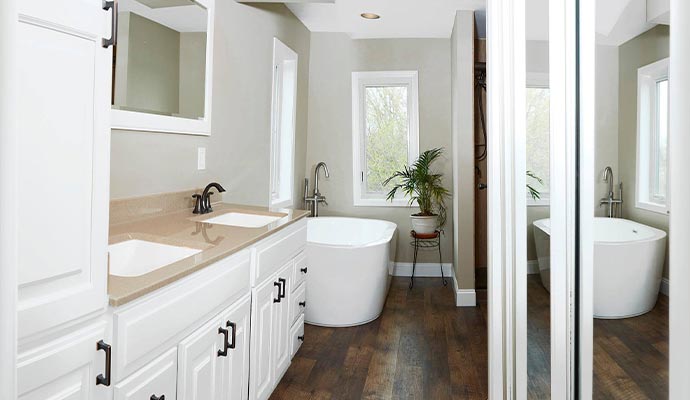 Even a simple renovation may result in huge financial gains when it comes to increasing the value of your property. Renovation of your bathroom will almost certainly result in an increase in the value of your house. Bathroom renovations are provided by Great Lakes Home Renovations and include the following:
Installation of Shower Enclosures: When compared to the traditional tub-and-shower combo, modern walk-in showers are more convenient to use. The fact that they are safer to use than traditional showers makes them popular not just with younger homeowners, but also with older ones. Shower enclosures are a necessity if you like to take a walk-in shower rather than a bathtub. Great Lakes can assist with the installation of a new shower enclosure.
Surrounds for Bathtub and Shower: The appropriately termed "surrounds," the covering material for the wall that surrounds a bathtub or shower, plays a vital part in the design of bathroom spaces. Water, soap suds, and other cleaning and hygiene items that you use will not get through to the wall underneath the cabinet.
Upgrade for Bathroom: A large number of houses were constructed in the 1980s or before. The time may have come for you to consider a bathroom renovation if you live in one of these houses. In addition to looking better, newer bathroom designs are more useful, safer, and larger in space.
Trust Great Lakes Home Renovations for Remodeling Solutions in Ellsworth
Great Lakes Home Renovations is a certified bathroom remodeling company providing quality services like Bathtub Liners, Basement bathrooms, Bathroom Vanities, and more in Ellsworth, MN for many years. So if you are looking for the best bathroom upgrades and solutions for your home, be sure to contact us online or call us at 952-204-9646.