Professional Bathroom Remodeling Services in Delavan, MN
Your daily schedule begins and ends in the bathroom. It's important that the area you use first thing in the morning is designed to not only improve your mood and re-energize you but also to enable you to relax and freshen up. The team at Great Lake Home Renovations works hard to fulfill all of our client's expectations while offering premium bathroom remodeling service. Every project is about you, and we're here to help you realize your project's objectives. Our talented team of designers wants to establish a totally productive connection with you, guiding you and attending to the particular requirements to complete the project. Once done, your freshly renovated bathroom will be tailored specifically to your requirements and personality.
If you live in Delavan, MN, and want to remodel your home, you can work with the professionals from Great Lakes Home Renovations. We offer high-quality bathroom renovation & remodeling services to fit any home owners' budget. With our team of expert craftsmen and carefully selected materials, you can be sure that every remodeling project by Great Lakes Home Renovations is of the utmost quality.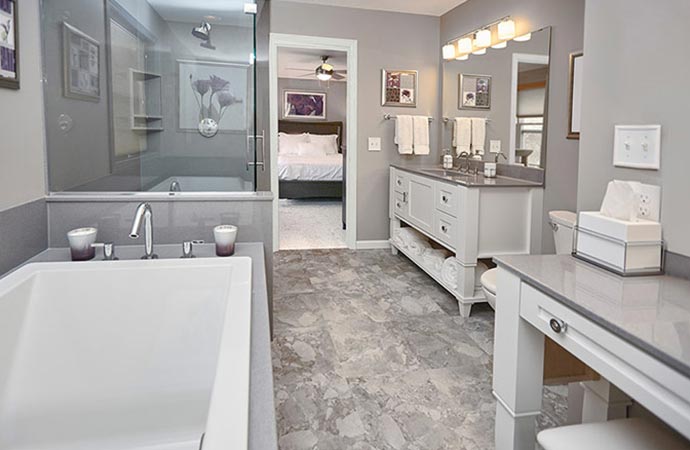 Bathroom Remodeling, Upgrades & More...
With more than decades of experience under our belt, you can trust us to give your bathroom the makeover you want and need. Whether you need to do some much-needed repairs or update, Great Lakes Home Renovations is here to help.
Cracked flooring, broken fixtures, and outdated enclosures can be an eyesore and affect the usage of your private space. That being said, renovating your bathroom is not just to increase its aesthetic appeal, but also to improve its function. Whether you want to convert the tub to a shower to maximize the space or modernize your bathroom fixtures, we've got you covered. Additionally, we are an authorized distributor of re-bath products, the industry leader when it comes to making your bathroom look like a personal sanctuary.
Services We Offer
We offer a variety of bathroom remodeling & renovation services. These are:
Trust Great Lakes Home Renovations for Your Bathroom Remodeling Project!
Great Lakes Home Renovations offer bathroom remodeling & renovation services throughout the Delavan area. Call us today at 952-204-9646 or leave your details on our contact us page to learn more about our services.