Bathroom Remodeling & Conversions in Webster, MN
Great Lakes Home Renovations is the leading bathroom remodeling company in Webster, & other surrounding areas in MN since 1995. We are a family-run business and we have made a promise that we will never install something in your home that we wouldn't install on our own.
We offer the highest quality products & vanities to give your bathroom a completely new look. We only use products from top-rated manufacturers, making our services last reliably. Our certified remodeling professionals can provide you with outstanding designs to reimagine your bathroom space. We have the resources to remodel master baths, convert tubs to showers, & install bathtubs too!
Give us a call at 952-204-9646 when you need bathroom remodeling in Webster.
Check Out Our Bathroom Remodeling Options!
Committed to Provide the Best Products for Your Bathroom in Webster
Here at, Great Lakes Home Renovations, we are affiliated with award-winning brands like Sunrise Windows & Doors, ProVia, & Re-Bath®. Together, we strive to bring durable & beautiful products to our customers in Webster. Trust us for reliable sliding vinyl replacement windows, doors, blinds, shower fixtures, vanities, wall surrounds & more!
Our contractors will work closely with you to determine your vision, budget & style. After planning everything out, witness our team transform your bathroom the way you desire.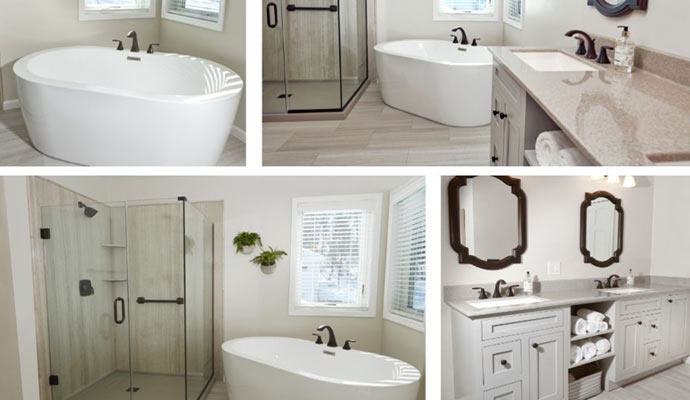 Why Choose Us?
We have been exceeding the expectations of homeowners in Webster since 1995 by offering the highest quality products and services at the best possible value. Here's why we are trusted among homeowners for bathroom remodeling:
Decades of Experience
Certified Contractors
Carefully Selected Materials
Understanding Your Options, Style & Vision
Lifetime Warranties
Financing
Contact Us to Remodel Your Bathroom or Conversions
Whether you need conversion from shower to tub, or tub to shower or need remodeling for your master bath, Great Lakes Home Renovations is the company to call. Let us help with your bathroom remodeling project & provide outstanding craftsmanship that would impress, and your guests!
Call us at 952-204-9646 or click here to schedule an appointment today!