Toilet Installation In Apple Valley, Eden Prairie & Greater Twin Cities Area
A new toilet can completely transform your bathroom. Installing it correctly is important whether you're renovating the entire room or merely replacing an existing fixture. Your new toilet must fit precisely in the allotted location and connect to your plumbing system without any issues. That's why it's essential that whoever conducts the service knows how to install it in a toilet.
If you're not experienced with this kind of task, consider hiring professionals. Our team at Great Lakes Home Renovations will gladly replace your old toilet, with a new and improved model.
Call us today at 952-204-9646 to know more about our toilet installation service with free estimates!
We Install All Types of Toilets in Greater Twin Cities Area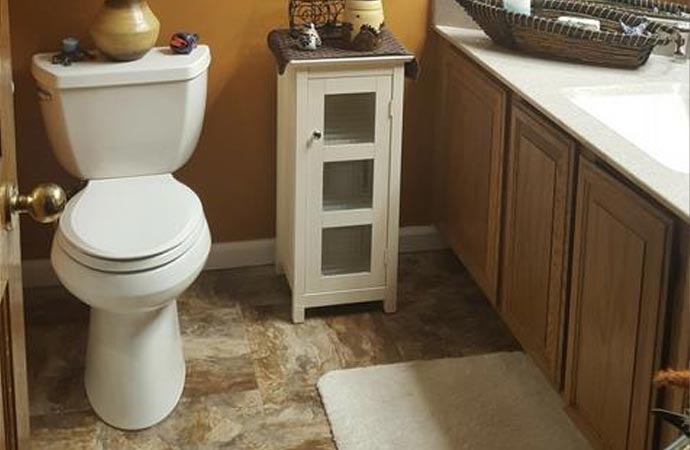 Your local Great Lakes Home Renovations has experience installing toilets of all makes and models.
Comfort-height Toilets
Pressure-assisted Toilets
Gravity-fed Toilets
Dual-flush Toilets
Double-cyclone Toilets
Waterless Toilets
One-piece Toilets
Two-piece Toilets
Wall-hanging Toilets
Your Trusted Toilet Installer in Greater Twin Cities Area
No matter whether you need a simple fix performed on your toilet or if you need a brand new one installed, we can get the job done. We know that the job is a stinky one—and a complicated one—which is why we are here to do it for you. 
There are many extra perks to working with one of our professionals for your new toilet installation. Our expertise is at your disposal, so you don't have to research the latest products or trends. You can sit back and relax while you enjoy a professional installation that includes:
Expert assistance selecting the right toilet for your home's size and plumbing layout
A fast installation that won't leave you without this essential fixture for long
Satisfaction-guaranteed results
Clean-up that leaves your bathroom as clean as we found it
Toilet removal for your old fixture
Transparent pricing for the entire job
Our services include bathroom design ideas, shower design ideas, tub to shower conversion, bathroom vanities, window replacement, door replacement, and more. We can offer financing options for practically any job.
You can avail of our services in Afton, Alden, Bay City, Big Lake, Carver, Cedar, Delano, Downing, Edina, Elmore, Fairchild, Frost, Grandy, Hamel, Jordan, Winsted, Woodbury, Young America, Zumbrota, and nearby communities. So hurry up and call us today at 952-204-9646 or contact us online to get our service in your area.