Bathtub & Shower Surrounds Installation in Apple Valley and throughout Minnesota
Whether you are building a new bathroom or remodeling an existing bath, choosing the right style bathtub and/or shower is essential for the design. You want a tub or shower that looks amazing, is easy to clean and maintain and will retain its appearance for years to come.
Get rid of ugly bathtub & shower walls with a quality wall surround
A crucial part of this design is the surround that you choose for your shower or bathtub. The term "surround" is an appropriate way to describe the wall sections that enclose a bathtub or shower. These surrounding walls have a job description that goes far beyond what we expect from standard walls in other parts of a house.
It has to stand up to soaking conditions day after day, without allowing moisture to penetrate into wall cavities or mold to grow on wall surfaces. Surrounds also typically contain recesses and/or shelves where hygiene products can be stored. For years, our tub and shower surrounds by Re-Bath have stood the test of time. 
Great Lakes Home Renovations can give your bathroom the updated look you desire with wall surroundings that can be installed over existing tub or shower stall walls, guaranteeing a perfect fit! As an authorized distributor of Re-Bath products, we have access to industry-leading products, designs, and cutting-edge ideas for improving the look of your private sanctuary.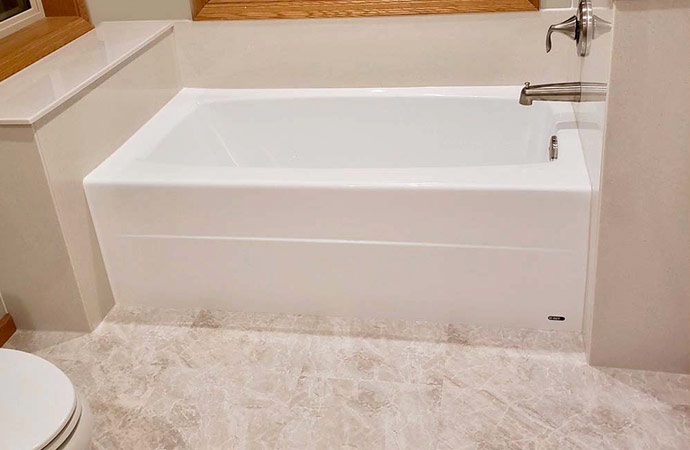 Choose a unique finishing touch for your shower
Our panel surrounds are a great choice for bathtubs and shower stalls. Unlike a tiled surround, which is made from hundreds of individual tiles, a panel-type surround is made up of no more than several large wall panels that are designed to overlap and (in some cases) interlock, forming a near-seamless surface.
With panel-type surrounds, there are no grout joints to crack, admit water, or support mold growth! Instead, you have thick, durable surround panels that direct water down toward the drain. The bottom edge of each panel overlaps the wall flange where the top edge of the shower base or bathtub is secured to the wall.