Expert Bathroom Remodeling Services across Downing, MN
One of the best things about owning a home is that you can design it to fit your needs and styles. Whether you want to remodel your bathroom to resemble a luxurious spa or replace old fixtures to match your home's architecture, you can do so however you want. But when you choose to do these bathroom renovation projects, remember to get the help of professionals to ensure that the job is done properly.
When searching for a contractor, make sure to choose one with years of experience in providing excellent services as well as bringing their clients' dream designs to life. In Downing, MN, you can rely on the expert bathroom renovation and remodeling services of Great Lakes Home Renovations.
We want to ensure that you have a hassle-free experience during the renovation and remodeling process. With our superior craftsmanship and durable products, we can help you implement changes in your bathroom that suit your budget and lifestyle.
Get The Best Bathroom Remodeling Service | Great Lakes Home Renovations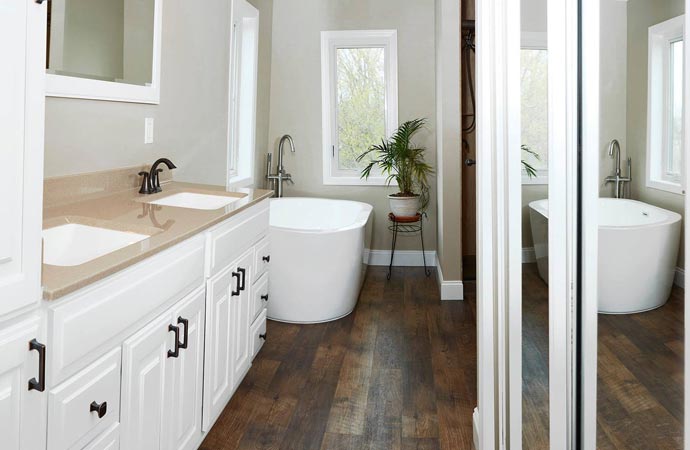 We at Great Lakes Home Renovations understand that bathroom remodeling can be daunting project to take on all by yourself. This is why, for more than two decades, we have made it our mission to help a lot of people achieve the home makeover they have always dreamed of. Whether it means replacing old installations or upgrading your private spaces to fit your current needs, we can help you with any remodeling projects you may be thinking of carrying out.
A bathroom with old fixtures, damaged enclosures, and cracked tiles is not appealing in any way. While enhancing the aesthetic value of your bathroom can help you appreciate it more, you should also improve its practical functions at the same time. We can help you refurbish your bathroom space by converting your tub into a shower or replacing outdated fixtures with modern ones. Additionally, we distribute authorized re-bath products, the industry leader in bathroom renovation materials. With every product we install, you can rest assured that it's of top quality, especially as each product we use is covered by a lifetime manufacturer warranty.
We have a wide range of bathroom renovation services, these are:
Rely on Us to Give Your Bathroom an Upgrade!
When it comes to bathroom remodeling and renovation services across Downing, MN, Great Lakes Home Renovations is the name trusted by homeowners in the state. For more information, you can call us at 952-204-9646 or you reach us through our Contact Us page. We will get back to you at once and provide you with a free estimate as soon as we're able.