Professional Bathroom Remodeling Services in Dodge Center, MN
Owning your very own home can give you a lot of advantages. One of them is the fact that you can design it exactly how you want it to look. You can even make various changes to suit your needs and style. So when it comes to renovation projects like turning your bathroom into a luxurious space, getting help from professionals is the wise decision. When looking for the perfect team for the job, choose one with years of experience in providing quality service and prioritizing their clients' design needs and preferences.
If you reside in Dodge Center, MN, and want to renovate your bathroom, our team of experts at Great Lakes Home Renovations can help you. We offer high-quality bathroom renovation & remodeling services and products to fit any homeowner's budget and style.
We want to help you have a stress-free experience during the remodeling process. With our expert craftsmen and industry-leading products, you can be sure that every remodeling project by Great Lakes Home Renovations will lead to a satisfactory outcome.
Bathroom Remodeling, Repairs & More...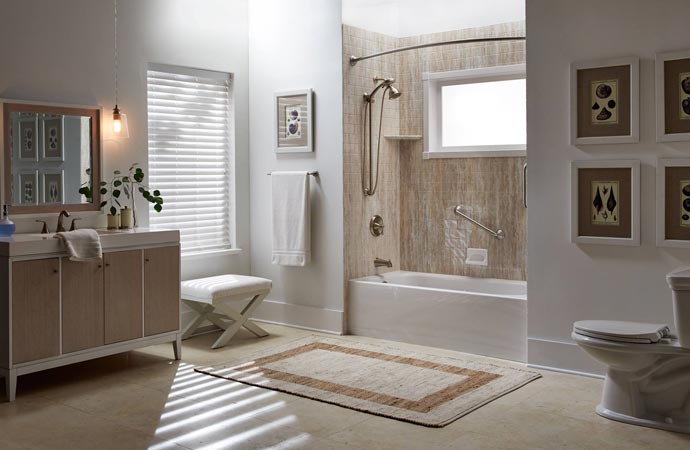 For more than two decades, we have set the standard for bathroom remodeling and renovation. You can also trust us to give your home a makeover through window and door updates. Whether you need to do much-needed home repairs or upgrade your spaces, Great Lakes Home Renovations has you covered.
Broken fixtures, outdated enclosures, and cracked tiles can be an eyesore and affect how you use your private space. When you renovate your bathroom, you not only enhance its visual appeal but also its practical function. We can help you convert your tub into a shower or replace your old bathroom fixtures with more modern-looking ones. In addition, we are an authorized distributor of re-bath products, the industry leader in bathroom renovations. Every product we install is covered by a lifetime manufacturer warranty.
We offer services for: 
Contact Us for The Best Possible Renovations for Your Bathroom
Great Lakes Home Renovations is a trusted brand when it comes to bathroom remodeling and renovation services in Dodge Center and the nearby communities of MN. For more information, you can reach us through 952-204-9646 or you can leave your inquiry and details on our Contact Us page. We will get back to you at once and provide you with a free estimate.