Professional Bathroom Remodeling Services in Downsville, MN
When it comes to bathroom renovations, many people believe that turning it into a do-it-yourself project is a more affordable choice. However, it's the opposite case. If you're not equipped with the skills and right tools needed to accomplish this complex task, you can end up making mistakes, causing you to feel more stressed and incur additional costs to correct them. This is much unlike hiring experts to take on the remodeling process, as they have the expertise and necessary equipment to complete the project successfully and efficiently.
If you're looking for a professional, remember to select one with years of experience in providing excellent services and working with their clients to design their dream homes. In Downsville, MN, you can get the help of Great Lakes Home Renovations for expert bathroom renovation & remodeling services.
Let our superior craftsmanship and high-quality products enhance the overall aesthetic of your home. Our team of professionals can help you implement the design you want in your bathroom while staying within your budget.
Experience a Luxury Bath with Our Bathroom Remodeling Services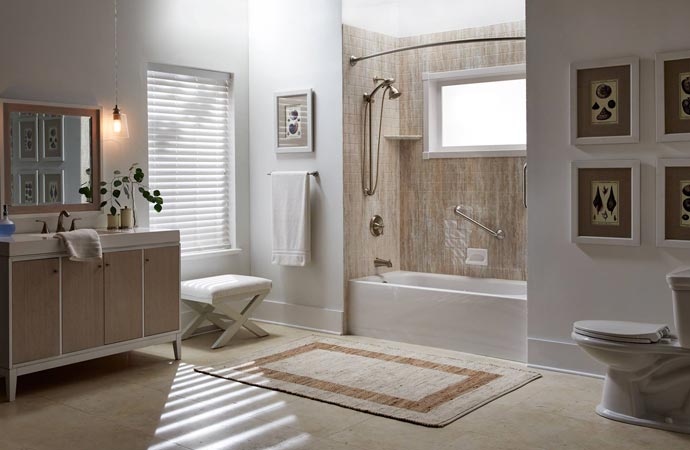 With more than decades of experience, we, at Great Lakes Home Renovations understand the needs of our customers. From replacing old designs to upgrading your bathrooms with modern features, we have you covered. We will help you give your home the makeover you've always wanted.
Whether you want to replace old fixtures or turn your bathroom into your private spa, we can help you. We can replace broken tiles and damaged enclosures or convert tubs into showers. While it's important to enhance the aesthetic appeal of your bathroom, you also need to ensure it serves your needs. If your bathtub is taking up unnecessary space, we can help you install a new shower base.
We have services for:
Reach Us to Complete Your Bathroom Remodeling Effortlessly!
If you're looking for a professional contractor that offers bathroom renovations and remodeling services across Downsville, MN, you can contact Great Lakes Home Renovations. For more information, call us at 952-204-9646 or reach us through our online page. We will get back to you at once and provide you with a free estimate.