Bathroom Remodeling Services in Delano, MN
The bathroom can be more than just a place to clean up. It can be your peaceful place to unwind after a long day. You can try bathroom remodeling to enhance the appearance and convenience of your bathroom. Besides, Bathroom remodeling may generate a significant return on investment when done right. Great Lakes Home Renovations will help you whether you wish to install a new sink, a glass shower door, or a sophisticated tile floor.
We've taken on all sorts of projects for property owners located in Delano and other nearby areas all around Minnesota. Want to start discussing your options when it comes to giving your bathroom a makeover? Dial 952-204-9646 now to get in touch with one of our staff members. We'll be more than happy to walk you through all of the different ways we can improve your property's value and visual appeal. We are also available online, just visit the link here.
Great Lakes Home Renovations Offers the Best Bathroom Remodeling Service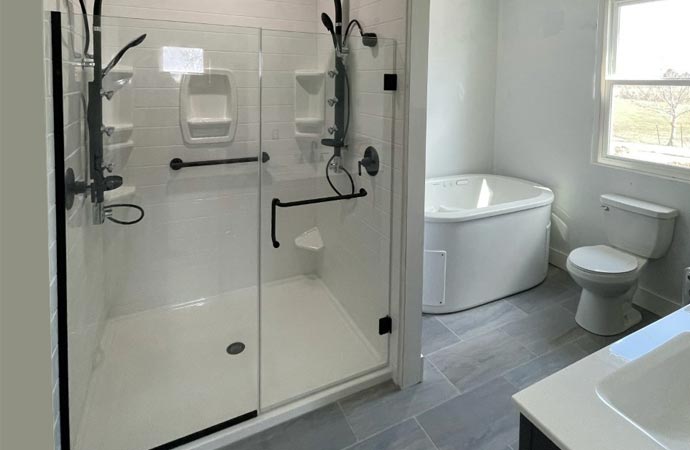 Do you have an idea of what you want your new bathroom to look like, but you're still unsure of the specifics? You can always consult our team for expert's opinion on what sort of updates would work best for your lifestyle. You can also take a look at our showroom so that you can get some inspiration from our previous projects.
We offer a number of bathroom remodeling services, such as:
By placing your trust in our team, you can rest easy knowing that your bathroom renovating project is in good hands. Great Lakes Home Renovations will take the utmost care while going about the tasks at hand, and we'll always complete the job within a reasonable timeframe.
Reach Out to Us to Start Remodeling Your Bathroom
Homeowners in Delano, MN, always trusted on Great Lakes Home Renovations for updating their homes. Don't put off making your luxury bathroom into a reality. Call us now at 952-204-9646 or tell us what we can help you with through our official website's Contact Us page.