Shower Enclosures Installed in Minneapolis, Saint Paul and Surrounding Areas in Minnesota
Custom Shower Doors Look Great and Are Made to Last
Walk-in showers have steadily gained popularity because many people today prefer the convenience and roominess of a walk-in shower over a traditional combination tub/shower unit. Walk-in showers are also popular because of our aging population. Certain types of walk-in showers are designed for easy access by people with physical handicaps.
As an authorized distributor of Re-Bath products, we have access to industry-leading products, designs, and cutting-edge ideas for improving the look of your private sanctuary. That includes top-of-the-line shower enclosures. 
Without a traditional tub and shower curtain, modern shower enclosures are an essential addition to your remodeled bathroom. Great Lakes Home Renovations installs shower enclosures in a variety of styles, allowing you to find the best addition to your bathroom design. Call us today at 952-204-9646  to get a free estimate on all our bathroom remodeling services!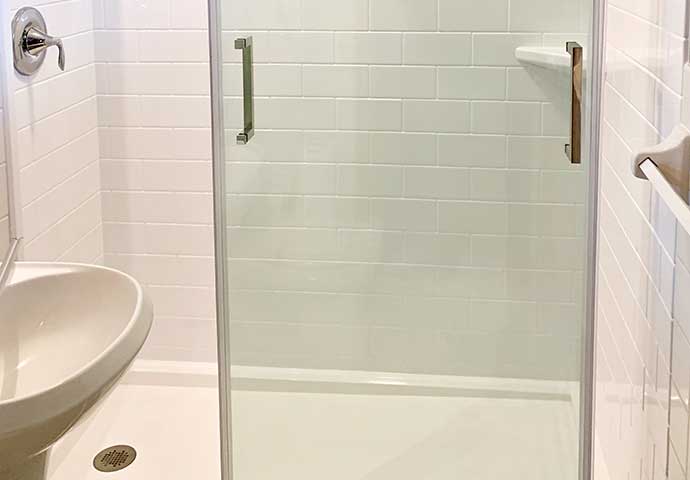 Find the Right Style Walk-in Shower Enclosure for Your Needs
Here's a brief overview of features that distinguish different types of walk-in shower stalls:
Factory-made walk-in showers or shower stalls: Most of the walk-in shower stalls in use today are manufactured units made from reinforced fiberglass or acrylic material. One-piece factory-made units are installed in new construction, though it's usually necessary to install a multi-piece walk-in shower stall in remodeling. Seats, shelves, and cubbyholes are frequently cast into the walls of factory-made walk-in showers. A shiny, gel-coated finish resists staining and makes the stall surfaces easy to clean. Manufactured walk-in shower units come in different sizes and colors, with different wall design features to choose from.
Custom-made walk-in showers: The opposite of a factory-made walk-in shower is a walk-in shower made on site. With this type of walk-in shower, we will frame the walls and floor of the shower and install masonry backing or base material along with a drain and waterproof membranes. Then we finish the shower walls and floor with the tile of your choice.
Glass-enclosed walk-in showers: An accessible walk-in shower is most likely to have a shower curtain that can be pulled aside to provide easy access to the shower. Other walk-in showers (especially custom-made showers) are fitted with sleek, frameless glass doors that keep water inside the shower stall. Still, other walk-in showers may not require doors at all because of their configuration or the bathroom's design.
Accessible showers: While any walk-in shower could be described as "accessible," some units have special features designed to accommodate individuals with physical disabilities. For this reason, this type of walk-in shower is sometimes referred to as "barrier-free," "handicap-accessible," or "ADA-compliant." (ADA stands for American Disabilities Act.)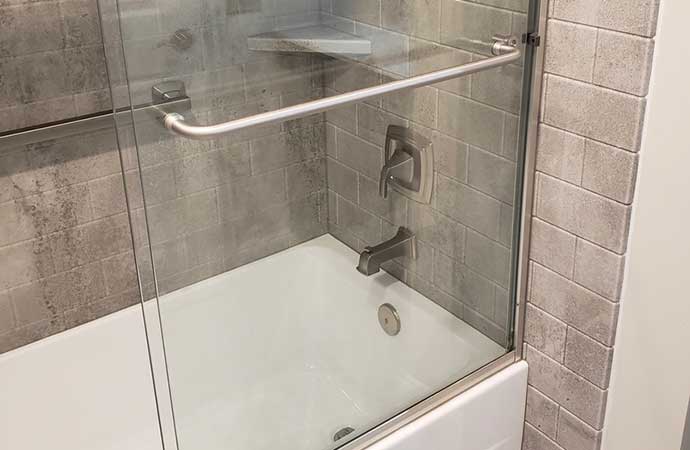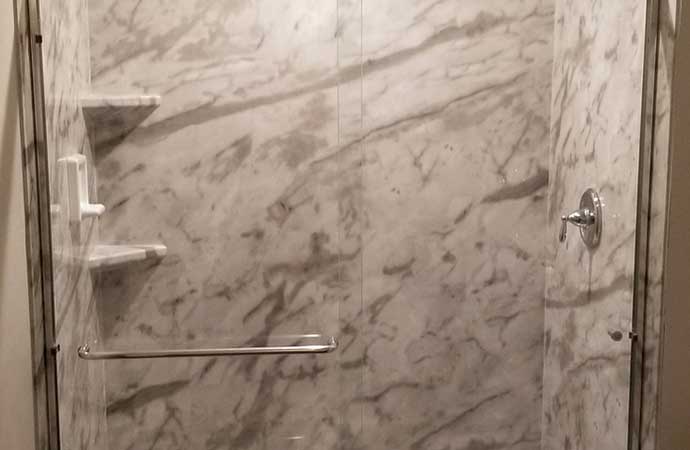 Upgrade Your Shower Today!
Ready to get started on your shower remodel? Our experienced bathroom remodeling professionals will install your new enclosure in accordance with your space and tailored to your needs. We install industry-leading Re-Bath products, for our customers and have access to cutting-edge ideas and designs to upgrade your private sanctuary. We serve Apple Valley, Saint Paul, Minneapolis and surrounding Minnesota towns and cities, providing custom shower enclosures and walk-in shower solutions. Contact Great Lakes Home Renovations today -
get a free online quote for all of our bathroom renovation and shower remodel services, or call us today at 952-204-9646 to learn more about all our bathroom remodeling services.