Bathroom Remodeling in Minneapolis - Saint Paul
An old bathroom isn't just an eyesore in your home, it can also be difficult to use and decrease the value of your home. More and more homeowners are choosing to remodel or design a new bathroom to make their lives easier and their homes more beautiful. As an authorized distributor of Re-Bath products, we have access to industry-leading products, designs, and cutting-edge ideas for improving the look of your private sanctuary.  We also feature Bertch vanities for our customers.
Upgrade your bathroom to add function and appeal to your home
Great Lakes Home Renovations is your local expert for all of your bathroom remodeling needs. From conception to completion, we'll be sure to give you the perfect bathroom. Whether you're looking to install new fixtures, convert a tub to a shower, install new vanities, or bring any other idea to life, we'll make sure your bathroom is easier to use, clean and maintain, and that it's more beautiful! BEST OF ALL - most of our updates take days, not weeks or months, to complete.
If you're interested in learning more about our services, call and schedule a free design consultation or free estimate today! We serve homeowners in Saint Paul, Minneapolis, Twin Cities, Apple Valley and surrounding areas.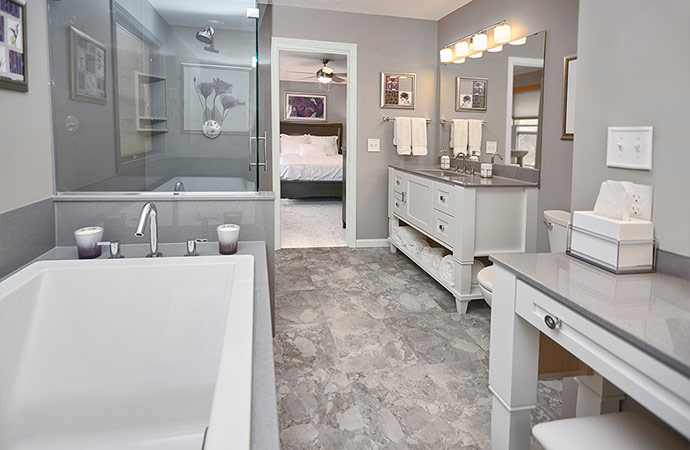 We Provide the Best Home Improvement Materials
If your bathroom is dated or damaged, in need of additional storage space or safety features, or just isn't meeting your needs, Great Lakes Home Renovations can give you the complete bathroom remodel you need without the headache. Our exclusive complete bathroom remodel process removes old materials and fixtures and replaces them with beautiful options in a wide variety of colors and styles through our partner, Re-Bath.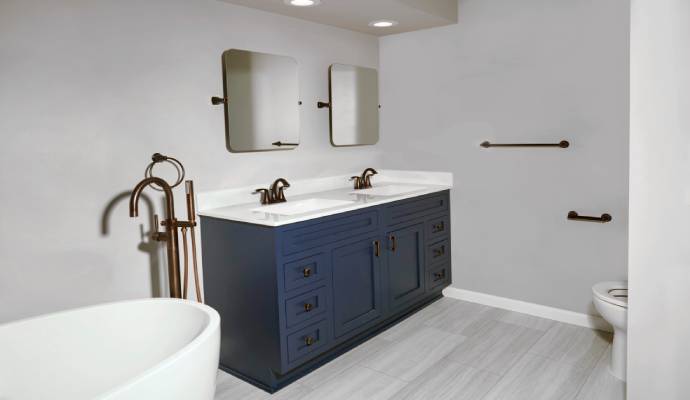 We Specialize in Bathroom Remodeling Services
Whether you're looking to spruce up the surfaces in your bathroom or completely gut the space and alter the layout and features, Great Lakes Home Renovations's specialists can help you achieve your dream bathroom. Our remodeling services include:
Tub to shower conversions: Bathtubs are becoming more obsolete for many people, and can end up just getting in the way and taking up unnecessary space in a bathroom. We can turn your tub into a shower by working with the existing tub apron or installing a new shower base.
Bathroom vanities: The right vanity is essential to completing the bathroom. We can install all types of vanities and even provide you with a custom top. We work with quality solid surface materials that provide excellent beauty and durability.
Liners, enclosures, and surrounds: These features help your tub or shower feel like it's a part of the rest of the bathroom. We offer a variety of tub and shower surrounds, shower enclosures, and tub liners to allow you to create the perfect design for your home.
Fixtures: We offer a variety of features so you can add the accessories you want to complete the look you want for your bathroom project.
Flooring: The right flooring is a crucial aspect of any bathroom. We can help you find the right color and style to match the rest of your remodeled space. 
Contact Great Lakes Home Renovations to Start Your Twin Cities Bathroom Remodeling Project
If you're unsatisfied with the state of your bathroom, there's simply no reason to delay a redesign or remodeling project. You'll see the benefits for years to come as your bathroom continually provides happiness, beauty, and value.
Great Lakes Home Renovations is a professional remodeling company more than ready to help with your bathroom remodeling needs.
Call 952-204-9646 or email us today to schedule a free bathroom evaluation and design consultation in Minneapolis - Saint Paul and Twin Cities areas!