Bathroom Remodeling Services in Dennison, MN
The bathroom can be more than simply a place to clean up, it can also serve as a relaxing retreat from a busy day. Your outdated, boring bathroom has to be renovated in order to rejuvenate your morning as you start your day here. For situations like these, you'll need help from experienced professionals that can handle your renovation needs quickly and efficiently.
In Dennison, MN, you can trust the professional technicians of Great Lakes Home Renovations. We have been providing home remodeling services to many satisfied homeowners since 1995. Our company specializes in complete bathroom renovation services.
Bathroom remodeling is a challenging project, so you'll need a dependable contractor that meets your expectations. At Great Lakes Home Renovations, we'll redesign your bathroom to achieve your desired vision and style. You can rely on us to install high-quality fixtures, vanities, and flooring to make your bathroom look more functional and appealing. Give us a call at 952-204-9646 to schedule an appointment for remodeling services today! You can also go to the link here to get in touch with us online.
Update Your Bathroom Space with Our Remodeling Services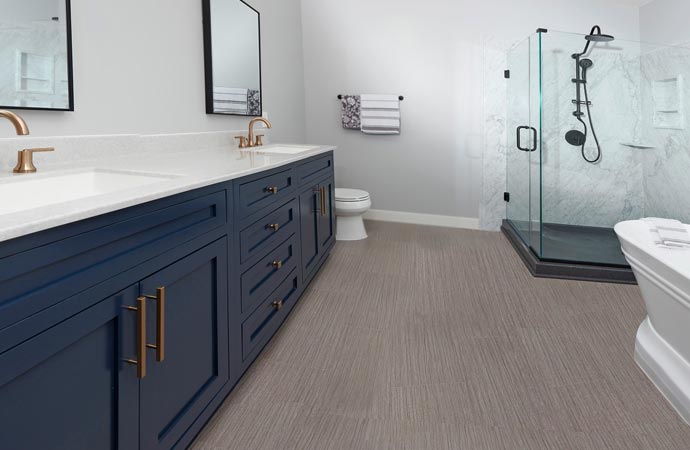 At Great Lakes Home Renovations, we take the time to understand your needs to come up with the best design and renovation solutions for your home. We only use carefully selected remodeling products made with durable materials that are sure to last for years. All the products we install also come with lifetime warranties provided by the manufacturer. If you ever need repairs, we have dedicated on-call service personnel ready to serve you.
Let our team redesign your bathroom and provide custom renovations that cater to your needs. We can install water-conserving fixtures such as low-flow toilets and sink aerators. If you need customized shower bases and beautiful flooring options, we'll take care of it for you. Our team will work to achieve the bathroom design you've always dreamed of.
We offer a number of bathroom remodeling services, such as:
Contact Great Lakes Home Renovations in Dennison, MN
For superior bathroom remodeling services, call Great Lakes Home Renovations at 952-204-9646. If you have more questions, you can leave us a message on our Contact Us page. Our company serves customers all over Dennison, MN.