Expert Bathroom Remodeling Services in Dalbo, MN
If it's been years since you last gave your bathroom a makeover, there's no better time than the present to finally spruce it up. Indeed, there's a certain feeling of satisfaction that you can get from modernizing your bathroom's look and feel, especially if you've owned it for a while now.
Unless you have the proper training and the necessary skills to carry out the bathroom remodeling tasks correctly, it's usually not the most practical way of going about it. After all, you likely have much more important things to do.
Instead, why not leave this to the experts at Great Lakes Home Renovations? If your property is located in Dalbo, MN, or in the nearby areas, give us a call at 952-204-9646 as soon as you possibly can. We've got years of experience when it comes to providing our clients with the best bathroom remodeling services in the state. A glance at our Reviews page will show you just how satisfied all of our previous clients have been with our work.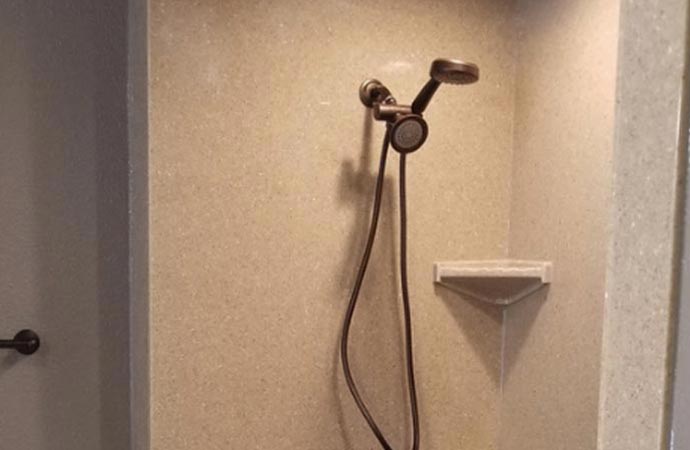 Shower & Bathtub Installation Services
When you call Great Lakes, you can rest assured that your bathroom will look its best once we're done. These are some of the most popular bathroom renovation services that we offer to homeowners in the Greater Twin Cities area:
Shower Installation: For more than 32 years, our technicians have been installing showers using high-quality products. Our installation is so smooth that you don't even look into it for a long time.
Bathtub Installation: Bathtubs have a limited lifespan. Once they start to crack, the problem can spread and eventually leak water into the space under the bathtub. If you are thinking about installing a new bathtub look no further than Great Lakes professionals for the best result.
Choose Great Lakes for Reliable Home Renovation in Dalbo, MN
Property owners in Dalbo and other nearby communities love the results that we've given them. If you want to get the home of your dreams, you can't go wrong with picking us to make it happen. Just tell us what you need through our Contact Us page or call us at 952-204-9646 as soon as you can. We promise to make the experience a hassle-free one from start to finish!