Bathtub to Shower Conversions in the Greater Twin Cities Area
Many people are not using bathtubs as much and are interested in converting a bathtub into a shower, and for good reason. Statistics show that converting a bathtub to a shower could prevent some serious accidents. In the U.S., over 25,000 accidents occur in and around bathtubs every year. Many of these mishaps occur as people try to step into their tub. Turning an under-used bathtub into a shower eliminates this tripping and falling hazard.
While many newer homes are built with showers instead of (or in addition to) tubs, older homes often have bathrooms with tubs that double as showers. Because most people take showers more than baths, there's no need for multiple bathtubs in the average house. As an authorized distributor of Re-Bath products, we have access to industry-leading products, designs, and cutting-edge ideas for improving the look of your private sanctuary.
Make Your Bathroom Safe and Accessible With a Tub to Shower Conversion
If you are interested in converting to a walk-in shower in your home, Great Lakes Home Renovations can help. We can transform your bathroom into a safer, more comfortable space that assures you easier use and peace of mind. Call us today at 952-204-9646  to get a free estimate!
Converting a Tub to a Walk-in Shower Is Easier Than You Think
You don't need major demolition and reconstruction to convert your existing bathtub. Great Lakes Home Renovations can provide shower conversion that can be completed from start to finish in just a few days.
If you replace the tub with a new shower base sized to match the tub, your showering area changes from very cramped to generous. For this kind of conversion, it is often recommended that a new shower surround be installed to go with the new base.
Since the surround is durable and completely waterproof, there will be no grout joints to clean or repair.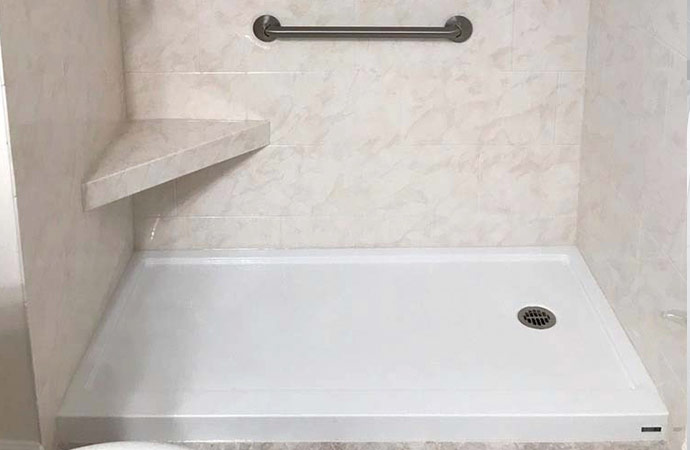 Safety Features Are a Smart Addition
To complete any tub to shower conversion, it's worth adding in a few extras that will enhance safety, convenience, and your overall enjoyment of this transformed space. Adding grab bars in your new shower space will make it safer and more user friendly for people of all ages.
When we convert your bathtub to a shower, we will also update the valve to a new, safer temperature control valve. The valve and its temperature control handle will be located at a convenient height on the shower wall.
Finally, don't forget to upgrade to a full-featured showerhead that's sure to please all who use it.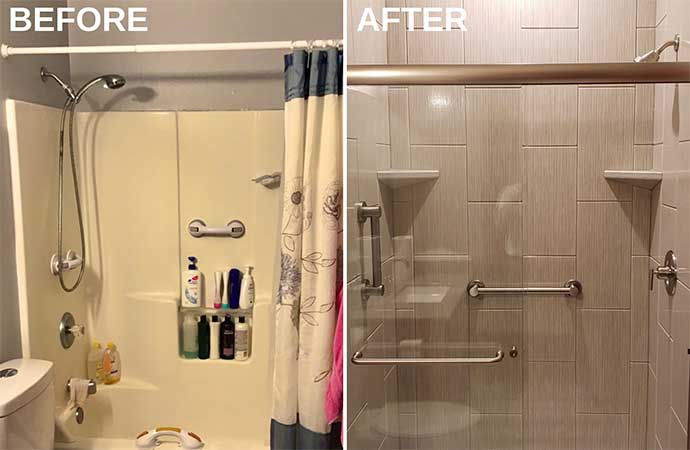 Improve Your Comfort and Safety With a Converted Walk-in Shower
If you're looking to upgrade your bathroom with a tub to shower conversion, Great Lakes Home Renovations is happy to be help. Give us a call or contact us online for a FREE quote! We provide all our quality bathroom remodeling services in Minneapolis, Saint Paul, Apple Valley, Lakeville, Andover, Eden Prairie, Burnsville, Hopkins, Mankato, Osseo and throughout the surrounding areas.
Our Recent Jobs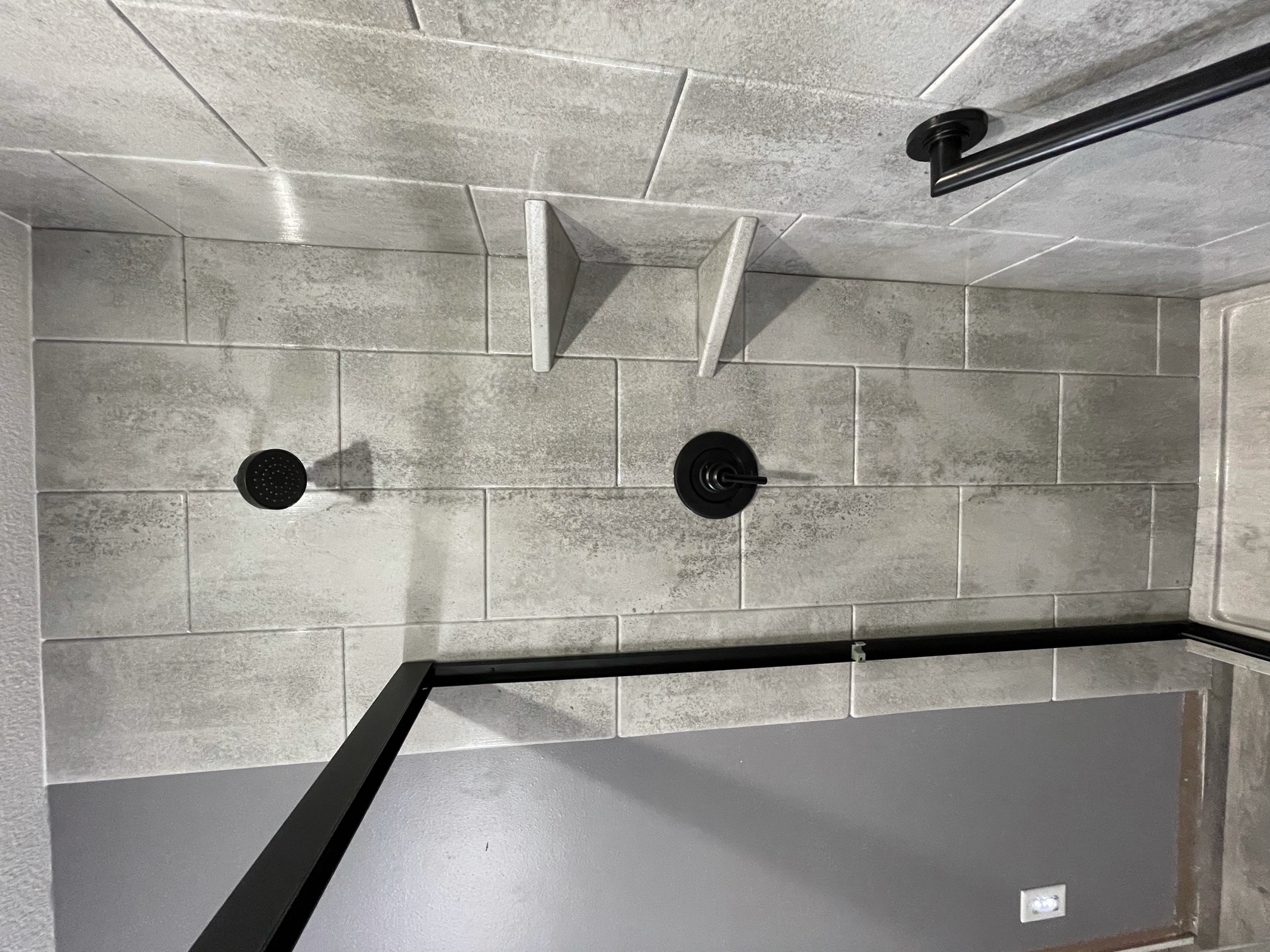 May 28, 2021 | Saint Michael, MN
Our team remodeled two bathrooms in this Saint Michael home. The first one was a main floor bathroom tub to shower conversion and vanity update. The second bathroom was the main floor ¾ bathroom, which included replacing the shower base/walls and vanity. The two new bathrooms look fantastic!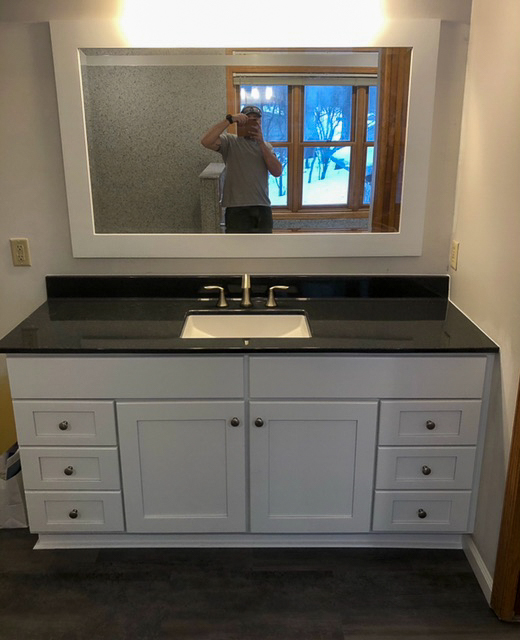 May 3, 2021 | Arden Hills, MN
Like many people, they were tiered of their large jacuzzi tub that they rarely used, while taking up a lot of space. The whole bathroom was surrounded by tile, which became difficult to clean the grout. They also had a large vanity but with very little space. We gutted the ...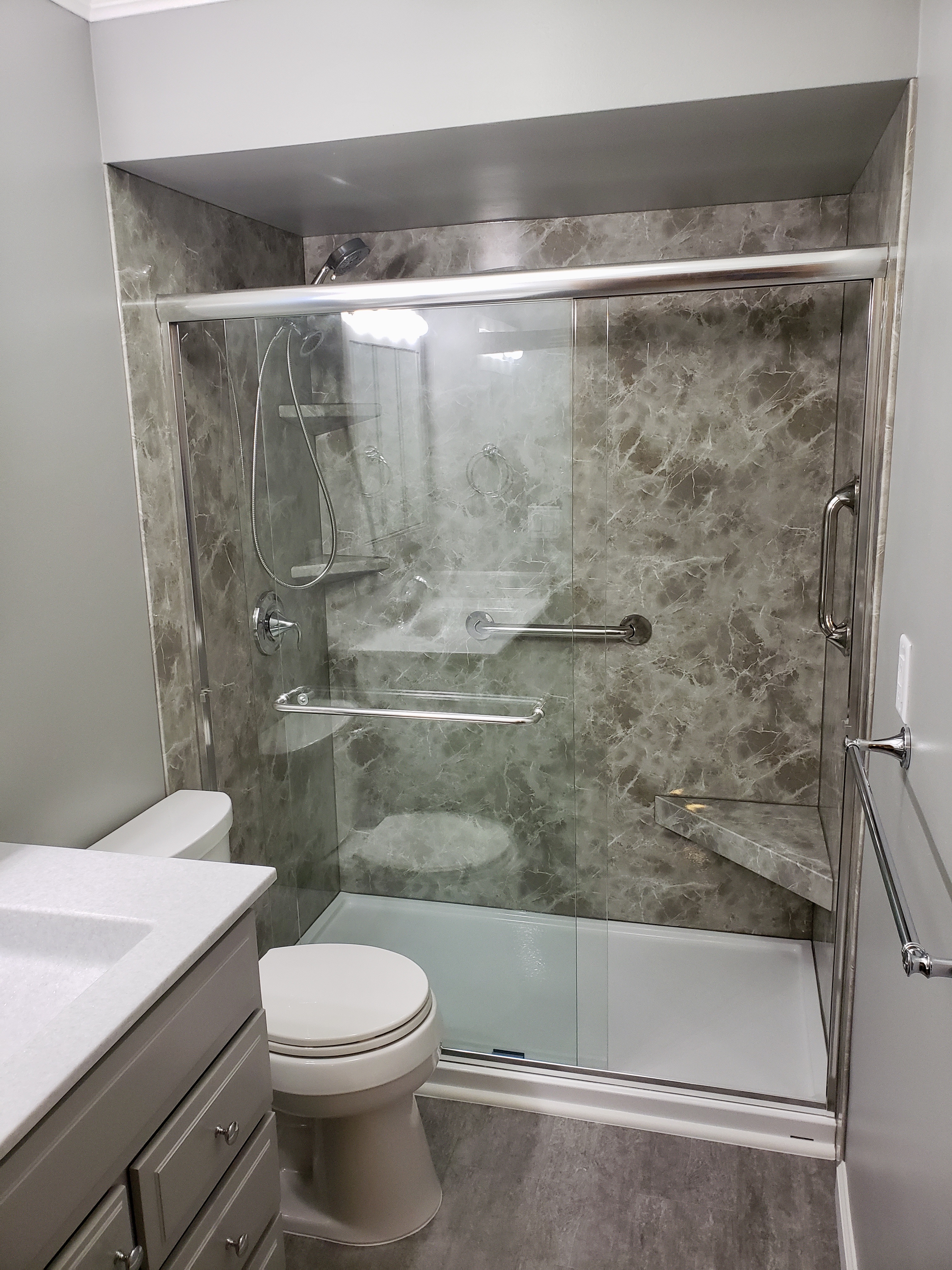 January 13, 2021 | North Mankato, MN
We removed the tub/shower insert and replaced it with this custom, walk-in shower that includes helpful grab bars, shelves and a comfortable bench. This surround is one of our most popular, Durabath Gray Emperador and it looks great with the Armstrong Forest Fog flooring!