Home Renovation Services in Saint Paul, MN
One of the greatest joys of owning a home is the freedom to do whatever you wish if you want to renovate it. Considering that around 65% of homes in Saint Paul, MN were built in the 1960s or earlier, home renovation indeed offers several benefits. One benefit of home renovation is that you'll increase your comfort and enjoyment of your property. You'll be looking forward to coming home every day.
Moreover, updating the look and functionality of your home will increase its value. In Saint Paul, the median value of homes is $175,000. Any improvement can significantly increase your home's worth in the market. So, if you're looking to sell your home, doing some renovation first before putting it up for sale could result in handsome returns. Furthermore, you can improve your home's energy efficiency with some upgrades. Thus, you can do your part in helping save the environment.
When it comes to home upgrades, trust only Great Lakes Home Renovations. Since 1995, we have been providing stand-out bathroom remodeling and window and door replacement services in the Twin Cities area, notably in St. Paul. We can help you in making smart choices in home upgrades because we understand that it can be daunting for a homeowner to start a home renovation project. With our years of experience in the industry, we can guide you in choosing the most cost-effective ways of improving your home, increasing your comfort, optimizing your energy consumption, and increasing your home's market value.
Window & Door Replacement in Saint Paul by Great Lakes
Great Lakes Home Renovations is the premier home renovation contractor in Saint Paul, MN, and the surrounding areas. We have won numerous awards through our decades of service, and you can be sure that when you choose Great Lakes, you'll get outstanding service.
Our window and door replacement services include:
Window Replacement – If you haven't replaced your windows for a couple of decades, it might be the time to finally replace them. The modern window models that we offer are highly energy efficient, secure, and easy to operate. They are also available in a wide range of designs and styles to choose from, so you'll surely find one that will match your home.
Patio Door Replacement – Our beautiful patio doors are built tough. Let our trained door installation technicians help you upgrade your patio doors so they're more secure and look more pleasing to the eyes. Our patio doors are maintenance-free, too.
Door Replacement – We have all kinds of doors that will last a lifetime. Our lovely entry doors are available in different kinds of materials including vinyl, aluminum, fiberglass, wood, and steel. Also, you can choose from a myriad selection of colors and styles.
Call Great Lakes to Renovate Your Home in Saint Paul
At Great Lakes, you can be sure that you'll always receive consistently excellent service. We offer bathroom remodeling services in multiple cities in Minnesota, including Saint Paul. For more information about our services in Saint Paul or to request a free quote, please call 952-204-9646 or send us a message via our Contact Us page.
Customer Reviews from Saint Paul
Testimonials from Saint Paul
Initial Presentation Testimonial Saint Paul, MN
The person who came and did the initial presentation as well as the two installers.
Completed Jobs from Saint Paul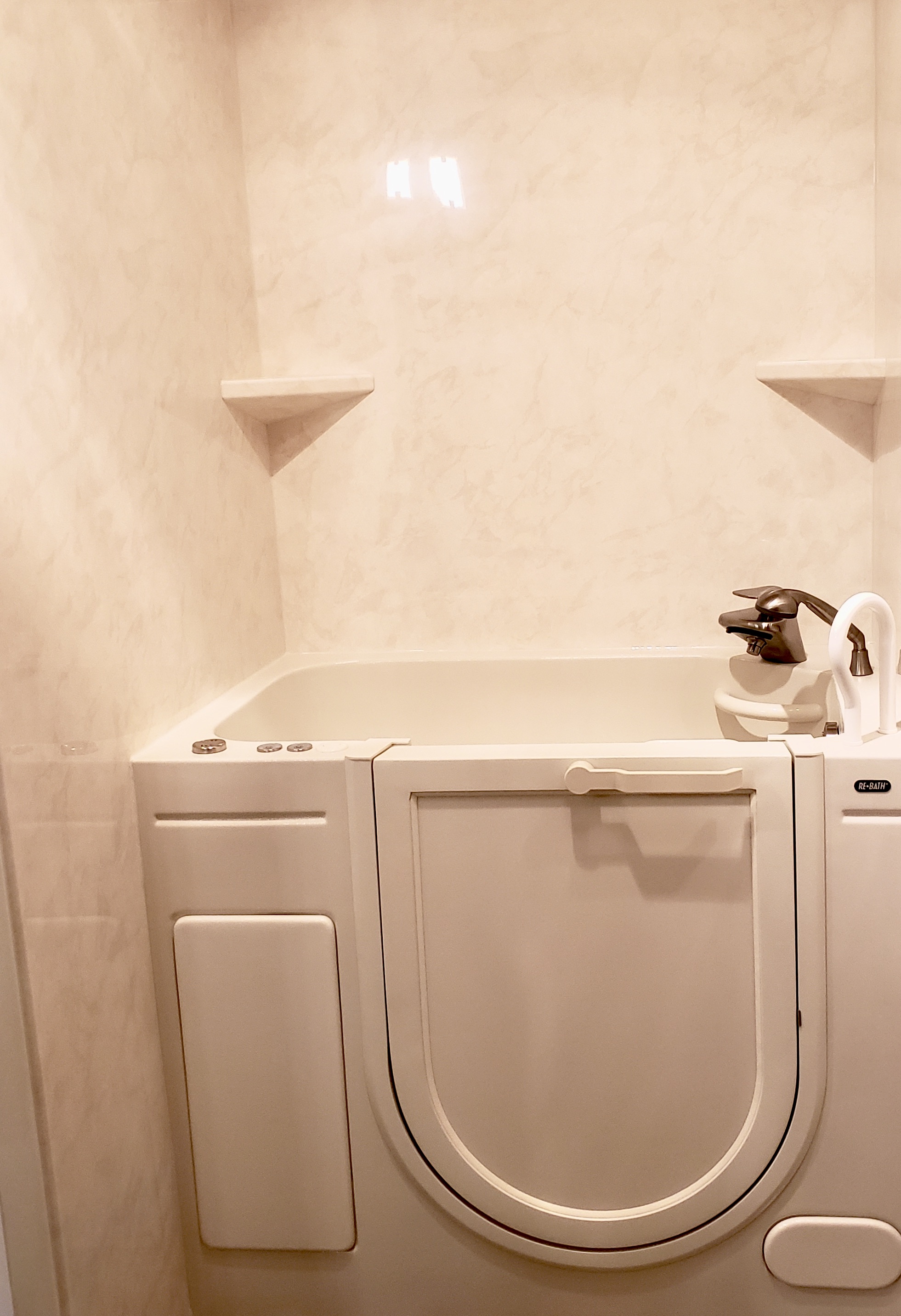 Safe, Walk-in Bathtubs
January 28, 2020
This safe, walk-in bathtub is slip resistant, ADA compliant and will make this bathroom feel more comfortable and secure. The new walk-in shower provides stylish grab bars and seating with a custom sliding glass door. The shower and tub surround is our Re-Bath DuraBath™ Ivory Marble Surround.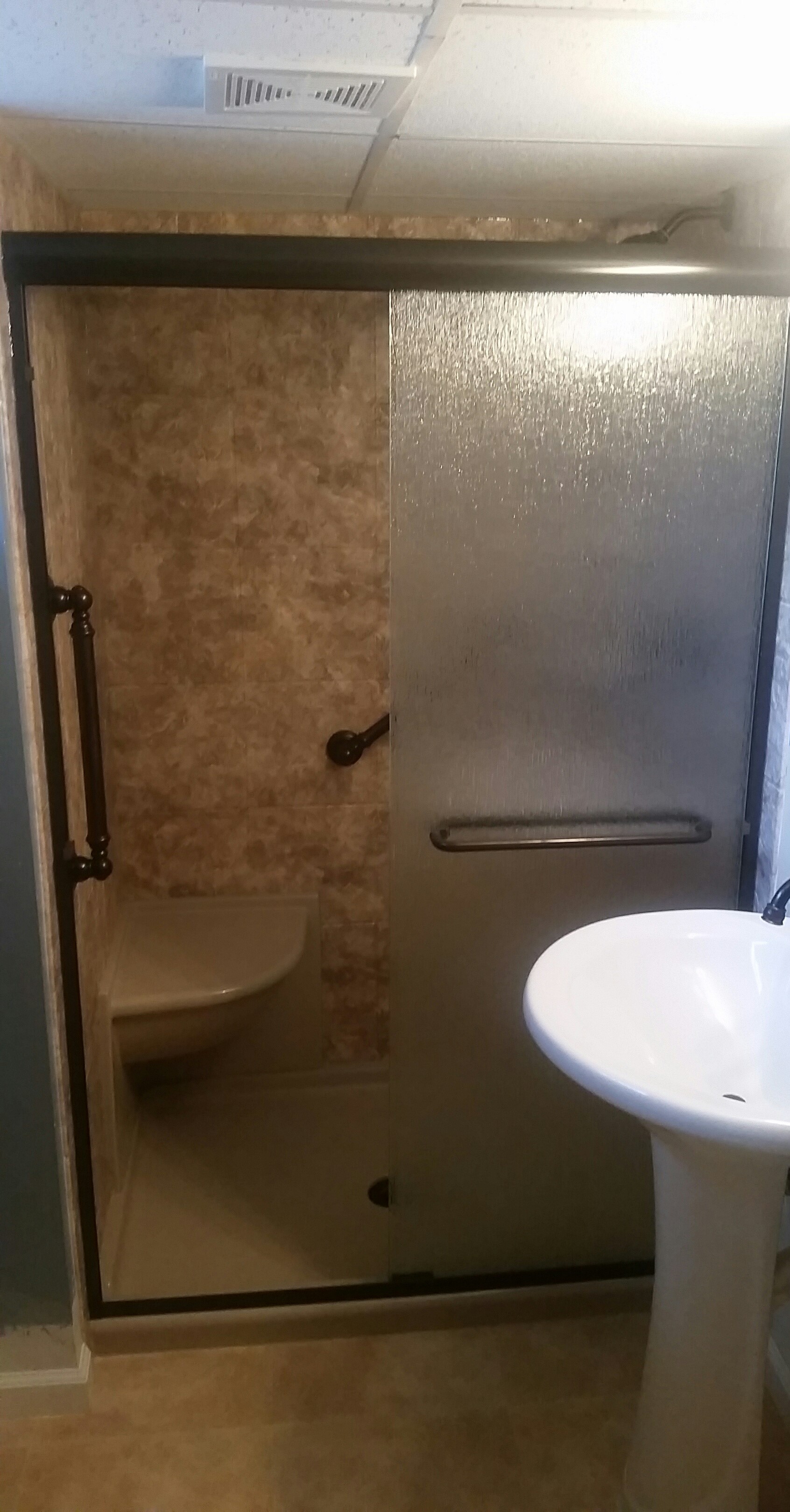 New Basement Shower in Saint Paul
May 11, 2017
Basement showers seem to be an area of opportunity in every home. In this Saint Paul basement we updated the shower by installing a new surround and base along with a shower door and new flooring. The homeowner picked out a new pedestal sink and we installed it for them.
Estimate Requests from Saint Paul
carol M. on June 19, 2019 10:25:29am
My bathroom really needs improvement. I bought the house 34 years ago and did 1 update about 20 years ago. Please help me.
Daniel S. on February 11, 2019 7:32:53am
Hi. Just leaving a message to have Scott Nash call me about scheduling a walk through for the job that they just completed. Thanks and have a great day!
Eric L. on January 14, 2019 9:30:02am
I am in the planning process of a Small bathroom remodel. Space is 70 by 75 inches. The plan is to completely refinish the interior with new toilet, sink and vanity, and to remove bathtub and replace with a stand-up tile shower and to add a bathroom exhaust fan. Also, because the plumbing from the room is cast iron and easily accessible, it would be great to have that removed and replaced. Also wondering if I can mitigate some of the cost by doing some of the demo myself. I Can send pictures by email or schedule an estimate. Thanks!
Christopher P. on January 7, 2019 1:09:08pm
Looking to get a quote/cost for two bathroom remodels.
Lynne R. on January 5, 2019 10:55:27am
Hi - Our bathtub which you guys put in Dec 2014 is leaking -- I need to have someone tell me what I need to do to have it repaired. Please give me a call at 651-489-6834. Thanks Lynne Rustad :)
David M. on November 2, 2018 10:36:39am
Hello, I am a homeowner looking to do a full bathroom remodel to the bathroom on my second floor. I'm looking to move a wall to gain some extra space, build a shower/steam-room and redo all of the finishing. Thanks, -David Marcaccini
Paul S. on October 24, 2018 2:16:31pm
Interested in a bathroom remodel
Nelson S. on August 25, 2018 12:03:44pm
Missed call during business hours. please call the customer back.
liz o. on August 9, 2018 7:42:33am
replace tile shower with acrylic
Anne R. on April 30, 2018 8:31:34pm
Recd your name from home advisor. Need to open wall to add shower to small bathroom. Would require putting up and sheet rock 2 shower walls. Acrylic. Would like accurate estimate. This Saturday would be good if available. Please email. Shower 32x32 or 30. I think someone from your placecalled here but I had it mixed up with someplace else.