We can remodel specific parts of your bathroom or the entire bathroom from the ground up. Depending on what you want, we can provide you any of the following options, services and products.
Customer Reviews from Bloomington
Testimonials from Bloomington
Scott S Testimonial Bloomington, MN
The installers were very easy to work with. They answered all of my questions, did great work,
The Finished Look Testimonial Bloomington, MN
I'm most satisfied with the finished look of the work, as well as their recommendations on
Installation Itself Testimonial Bloomington, MN
I was most satisfied with the installation itself and the quality.
Completed Jobs from Bloomington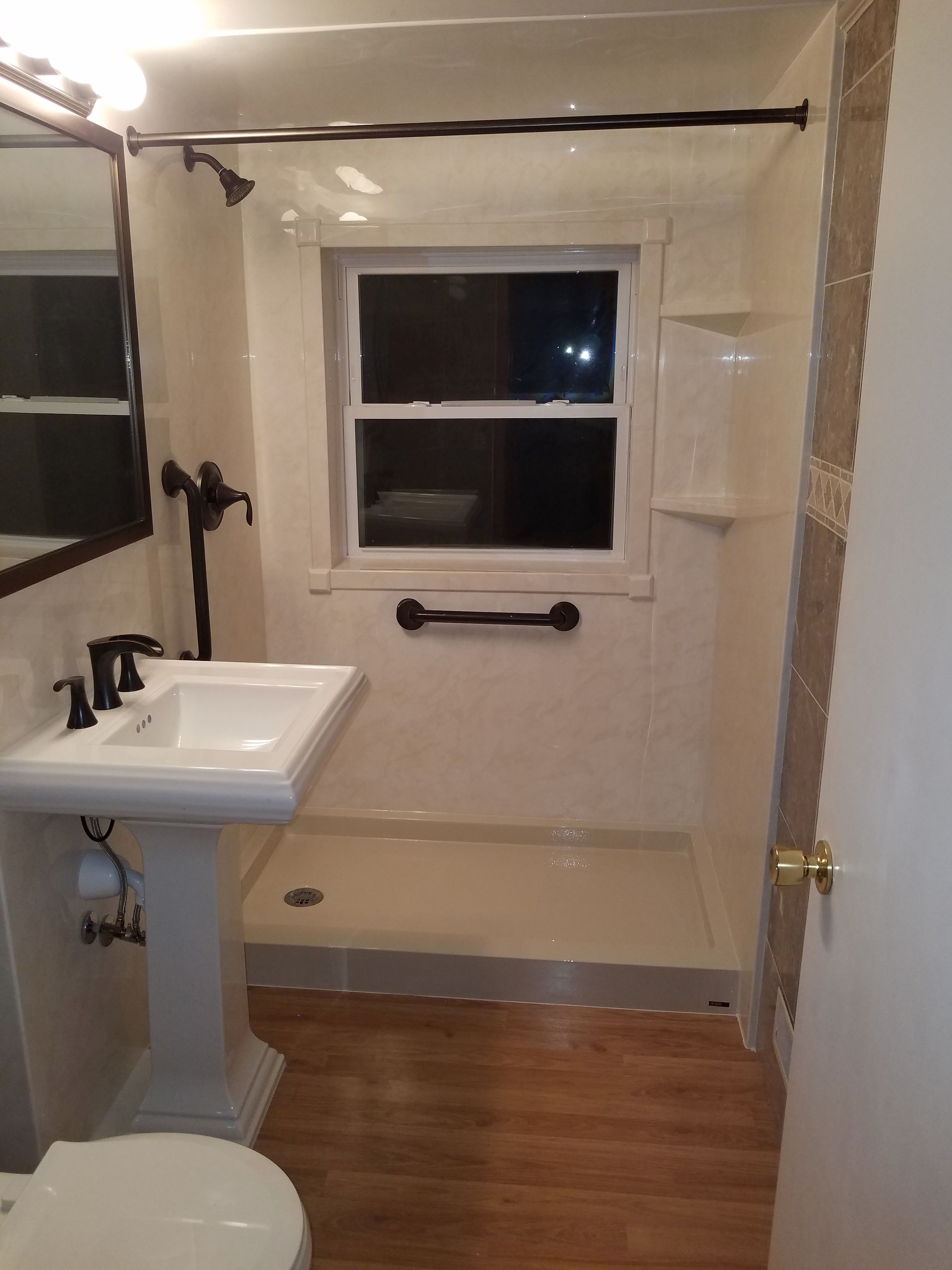 Full Bathroom Remodel in Bloomington
January 1, 2020
Completed this full bathroom remodel in Bloomington! Our team installed a new walk-in shower, tub, sink and toilet. The custom shelving, lighting and fixtures go perfect with the rest of the bathroom!
Estimate Requests from Bloomington
Matthew D. on September 5, 2019 11:47:22am
you were recommended by Home Advisor. I am looking to install a shower in my upstairs BA (and replace sink/toilet). I am also looking at updating small mainfloor bath by replacing tub/shower, sink/toilet, vanity, and repair holes in ceiling left by previosu contactor. Finally I am also looking to install a dishwasher in my kitchen which would result in also new cabinets, countertops, sink etc. I am looking for an estimate. I would LIKE the work completed within 2 months, however do not NEED it competed until Feb or March.
Mary W. on April 20, 2019 2:52:05pm
We are interested in a quote for a master bath remodel - new tile, shower, toilet, vanity..
Shannon J. on January 9, 2019 7:40:55am
Please cancel our January 16th @ 7:00 pm appointment from the Jan 5th Hyatt Event made with Event Representative - Jim. Thank you.
Darcy C. on January 7, 2019 4:20:59pm
Looking at options of refinishing or putting insert over my bath/shower.
Joel F. on June 28, 2018 11:02:31am
Windows needing replaced- 3 awning 6 single hung (incl by picture window) 1 picture window 1 sliding kitchen 1 egress and possibly... 4 basement (LR + spare BR)
Jessica S. on June 22, 2018 5:54:11am
Would like to get an estimate on a remodel of our master bath Thanks!
Michele B. on August 11, 2017 4:03:14pm
Hi, I cancelled my contract with Great Lakes on July 20 and am still awaiting the refund of my $7500 down payment. I left a message for Mary on Monday. It's now Friday, and I have not heard anything from her. I have called the office twice and gotten only a recording. I asked Jeff Dunn to follow up with you, and I understand he did, but I still do not know when or how I will get my money. Mary, PLEASE call me and let me know when and how I will have my money back. It is past due to me. Thank you! Michele Benyo
Pat J. on May 16, 2017 8:23:11am
Kitchen remodel, 15' x 15' Square layout. Keep same layout. Replace cabinets,tops, floors and appliances.
Rachel M. on September 6, 2016 8:50:37am
Hello, We're started to look into remodeling our kitchen and previously purchased windows through you guys this past winter. I remember there being a discount if you purchased other services, so I'm interested in more information about that and a free estimate on a kitchen remodel. Thanks!