We can remodel specific parts of your bathroom or the entire bathroom from the ground up. Depending on what you want, we can provide you any of the following options, services and products.
Customer Reviews from Apple Valley
Testimonials from Apple Valley
Completed Jobs from Apple Valley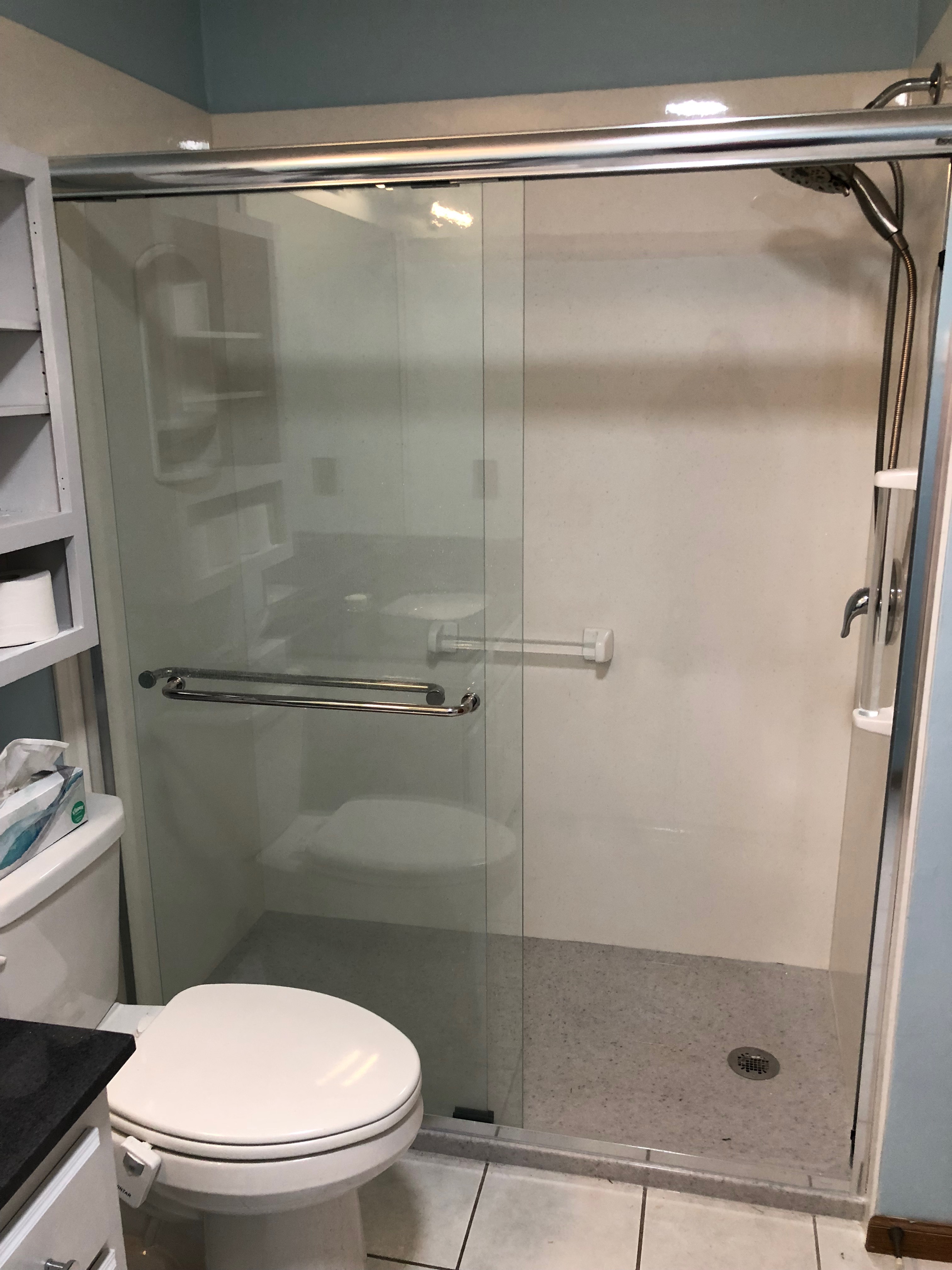 Bathroom Remodel in Apple Valley
January 12, 2018
This homeowner had an upcoming surgery and knew her current bathroom would be impossible to use during her recovery. This bathroom was scheduled so that when she was released from the hospital, it was ready! Her former fiberglass tub was to difficult to step up and over and no handles meant no additional support. Our Design Consultant recommended a tub to shower conversion with a low-threshold basin so stepping would be easier. We also installed two comfort-height grab bars. A clear-glass shower door completes the look and keeps this small bath feeling open!
Estimate Requests from Apple Valley
Jory A. on June 19, 2018 3:52:10pm
We are looking to put an addition on our home. A master bedroom, bathroom and walk in closet.
Dorothee T. on May 29, 2018 1:34:01pm
Hello, Can I get an estimate on the cost to replace a door trim, front door and front storm door? Sincerely,
Adam B. on May 7, 2018 3:56:09pm
Looking for window replacement quote.
Rick and Mary J. on April 14, 2018 6:37:18pm
I am looking for a bathroom remodel, vanity top, floor, turning a tub into tub/shower. Also need kitchen counter and backsplash
Irina S. on February 18, 2018 8:41:44am
Schedule appointment for a kitchen cabinets upgrades
Adam S. on January 15, 2018 7:01:37am
We have a rough in for a bathroom in our basement, would like to expand into a full finished bathroom.
Randy G. on December 5, 2017 9:46:17pm
Looking for a bathroom remodel estimate. I pretty much have all the materials selected (tile, flooring, vanity, countertop, etc)
Janet S. on July 15, 2017 4:29:22pm
We would like to replace our shower base (pan) in our master bathroom, and discuss keeping existing wall tile in place and adding to it, or replacing altogether. We also have 3 sinks and faucets to replace- 2 in master bath and 1 in other bathroom.
Amy K. on June 16, 2017 8:46:27pm
I own a town home (with an association) and I am looking at a few projects to be done. The first one is Windows. (Patio, living room and 2 bedroom).
Marc S. on June 5, 2017 9:08:56pm
I was wondering if you would be able to give me a quote on an install of 2 new small windows (30" square) that I bought new from Menards, into the exterior wall between our living room and deck, on either side of our door to our deck? We live in a split level and this is on the upper floor. I don't think there would be anything structural or water or electric in your way. I would want them nicely sealed & trimmed off to match the other existing windows. We would like this done sooner than later. Thanks, -Marc. 14706 Dunbar Ct., Apple Valley, MN 55124
Awards won in Apple Valley