Bathroom Remodeling, Window & Door Replacement in Saint Louis Park
For more than 20 years, Great Lakes Home Renovations has been the premier home remodeling company in Greater Twin Cities Area for homeowners wanting both quality and value. Whether you're looking for new windows, entry or patio doors, or remodeling solutions for your bathroom, you can depend on us for superior craftsmanship and beautiful, durable products.
All of the products we install are covered by lifetime manufacturer warranties, and we proudly stand behind all of our products and services. We would never install something in your home that we wouldn't install in our own.
At Great Lakes Home Renovations, we know just where to begin and we have been helping property owners get through the remodeling process quickly and with as much as ease as possible. We offer high-quality remodeling services and products to fit just about any budget and we always pay close attention to detail so the homeowner is always satisfied with the outcome. We are dedicated to helping homeowners bring their bathrooms to life and give them the feel they're going for whether it's modern, minimalistic or even designed to feel like a luxurious spa.
Call us today at 952-204-9646 or click below to learn more about how we can help you. We offer free estimates in Minneapolis, Saint Paul, Apple Valley and throughout the nearby areas!
We can remodel specific parts of your bathroom or the entire bathroom from the ground up. Depending on what you want, we can provide you any of the following options, services and products.
Customer Reviews from Saint Louis Park
Richard R. from Saint Louis Park, MN
Reviewed on
Jan 8th, 2020
Top quality products. Not a cheap way to go by any means but quality and professionalism. Detailed workers, diligent and knowledgeable and experienced. They met the schedule with only slight variation to project.
Adam L from Saint Louis Park, MN
Reviewed on
Oct 20th, 2014
The windows (Sunrise brand) were custom made to the exact measurements taken. Measurement is a critical step for getting windows (as I have learned the hard way). As a DIY'er I first attempted to remove and install a window myself. It didn't go well. Buying windows at retail and shimming them to fit is not a good idea for a house you plan to live in. I learned the hardest way possible, by trying and failing.
So I called Great Lakes windows.
Salesman came, Thomas. Great product demo. Worked with us on price and was fair.
Great Lakes put in a rush order for us because I had ruined one of the window installs already (DIY job) and we had a boarded up window facing the street. Nice, right? It still took several weeks because each window is made to spec. And I saw for myself they are within 2mm of the opening. Makes life easier for the installer, and is also easier to reliably seal.
Also way impressive considering I was lucky to buy a window at retail within even 2 inches of the opening size.
The windows are expensive compared to retail stores and even local competitors. But they are of high quality. If you are going to live in the place where you're getting windows installed, consider the liveability factor if you're thinking of going on the cheap.
Installer was friendly. Said he usually works with a helper, but was still able to get the 3 windows in with no issue.
Completed Jobs from Saint Louis Park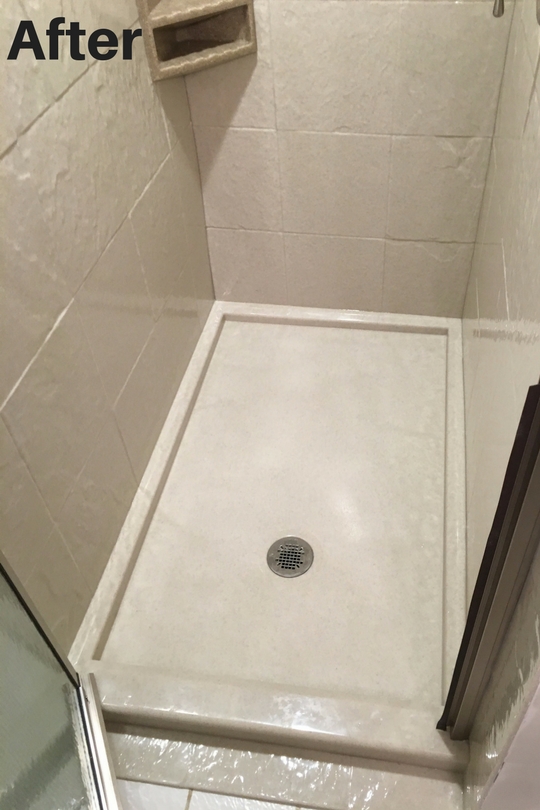 Moldy Tile Removal and Onyx Replacement
September 2, 2016
This old tile work was badly in need of replacement. We demolished all the tile and replaced it with a custom Onyx shower pan. The customer ordered their Onyx Wall Surround in a 12 by 12 tile design. This color is called Low Tide. This customer also opted to have the accessory piece in a different color, the shower caddy is featured in Safari.
Estimate Requests from Saint Louis Park
Sheila M. on December 5, 2017 3:52:27pm
I need 2 interior doors and 3 bi-fold closet doors replaced. I'd like to schedule an estimate asap.