Bathroom Remodeling, Window & Door Replacement in New Hope
For more than 20 years, Great Lakes Home Renovations has been the premier home remodeling company in Greater Twin Cities Area for homeowners wanting both quality and value. Whether you're looking for new windows, entry or patio doors, or remodeling solutions for your bathroom, you can depend on us for superior craftsmanship and beautiful, durable products.
All of the products we install are covered by lifetime manufacturer warranties, and we proudly stand behind all of our products and services. We would never install something in your home that we wouldn't install in our own.
At Great Lakes Home Renovations, we know just where to begin and we have been helping property owners get through the remodeling process quickly and with as much as ease as possible. We offer high-quality remodeling services and products to fit just about any budget and we always pay close attention to detail so the homeowner is always satisfied with the outcome. We are dedicated to helping homeowners bring their bathrooms to life and give them the feel they're going for whether it's modern, minimalistic or even designed to feel like a luxurious spa.
Call us today at 952-204-9646 or click below to learn more about how we can help you. We offer free estimates in Minneapolis, Saint Paul, Apple Valley and throughout the nearby areas!
Bathroom Renovations, Upgrades & Installations Offered in New Hope
We can remodel specific parts of your bathroom or the entire bathroom from the ground up. Depending on what you want, we can provide you any of the following options, services and products.
Customer Reviews from New Hope
Tiffany X from New Hope, MN
Reviewed on
May 6th, 2017
Order and install process has been great and simple as pie! The installers are good boys...even cleaned up after themselves which makes me very happy! Top notch and premium work! Thanks so much
Testimonials from New Hope
Visually Appealing Testimonial New Hope, MN
The basement is visually appealing.
Provided Excellent Service Testimonial New Hope, MN
All of the staff that I worked with were friendly, knowledgeable, and provided excellent service. The lead installer for my job answered all my questions as he was working,
Completed Jobs from New Hope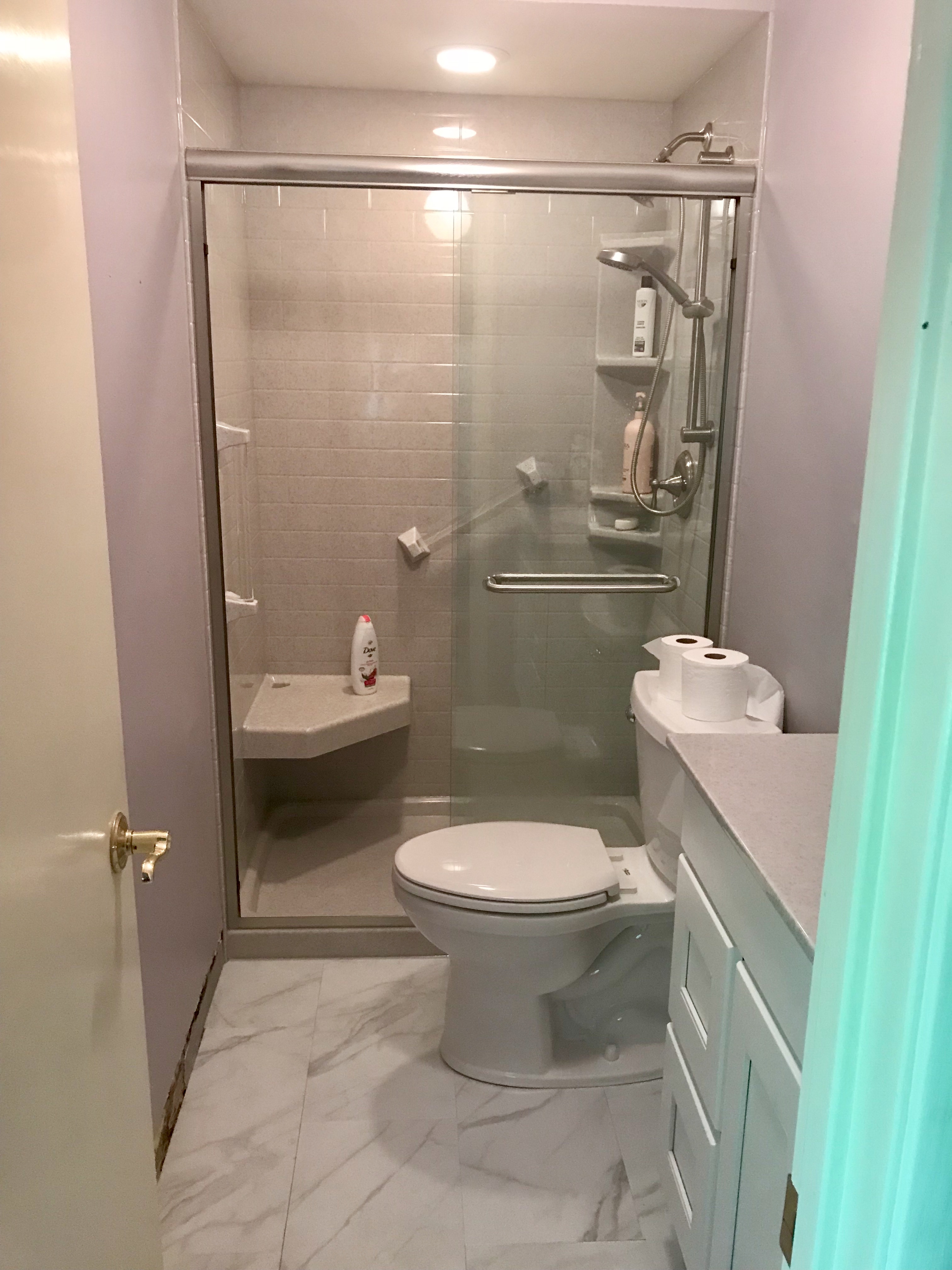 Leak-free Bath in New Hope
June 25, 2018
Big jobs make for beautiful results! This bathroom was a full tear-out in New Hope. We demolished the tile floor and took out the old fiberglass shower. Since this customer was concerned about leaking (so concerned in fact, they hadn't used this shower in 20 years!) We did a thorough examination before installing @the The Onyx Collection, Inc. shower pan and walls. Once we finished up with the shower door, it was time for the new floor. Then, we added the toilet and vanity. Of course, this bathroom wouldn't be the same without the accessories! Two grab bars, a corner seat and a corner caddy make this remodel both safe and stylish! But best of all leak-free!
Estimate Requests from New Hope
Marie J. on November 10, 2017 4:20:04pm
Hello, we received a card in the mail offering 25% off our next project, and we would like to take advantage of that. We previously had 6 new windows installed, and would like to get the rest of our windows replaced. Please let me know when we can set up an appointment. Thank you!