Home Remodeling Services in Eden Prairie, MN
Many benefits come with selling one's residential property. The money from the sale can help the family get a new lease on life, pave their path to financial independence, or fund their new passions and goals for the next phase of their journey. But before this can be done, the property owner first needs to make sure that their home in Eden Prairie, MN can fetch a good price.
Renovating your home by upgrading its bathroom or replacing old doors and windows is a straightforward way of increasing the property's value. A façade that's updated with the addition of new windows and doors is bound to catch the attention of prospective buyers. At the same time, a newly updated bath will entice buyers to imagine living in the property, which may be enough to convince them to purchase it.
Residents of Eden Prairie as well as the nearby areas of Lakeville, Bayport, and Northfield can count on Great Lakes Home Renovations for all of their home improvement needs. Our company has been in the business of improving homes for over 25 years, and we remain committed to providing our clients with long-lasting products and the best service possible.
Let us help you turn your vision for your home into a reality. Call us at 952-204-9646 so we can discuss your goals and budget.
A Better Home and Bathroom for Your Property in Eden Prairie
When is the right time to replace your doors and windows? Technically speaking, you can do this anytime you want to update the appearance of your house. However, your reason for renovating a home doesn't necessarily have to be about the way it looks.
That said, take a good look at your home. Is the paint on the windows and doors starting to peel? Are your doors and windows becoming difficult to open and close? Are your windows getting hard to clean?
If you answered "yes" to any of these questions, then it may be time for an upgrade. The same can be said if the doors and windows can no longer keep street noise outside of your home. It may also be time to renovate your house if the sealing around the frames is starting to crack and let drafts inside of the structure.
Great Lakes only gets products from trusted manufacturers, and you can count on our team to offer excellent services such as:
We can also take care of the toilet and bath on the property. These are just a few of the bathroom remodeling services we offer our clients in Eden Prairie.
These services will transform the look of your bathroom as well as elevate the day-to-day experience of your family members in your home. Take a look at our showroom to get inspiration from our previous and model projects.
Call Great Lakes for Home Improvement Projects in Eden Prairie
Allow our team at Great Lakes Home Renovations to help you increase the value of your residential property in Eden Prairie. Call us at 952-204-9646 or fill out the form on our Contact Us page so that we can discuss your plans and needs for your home.
Customer Reviews from Eden Prairie
David from Eden Prairie, MN
Sep 25th, 2015
Our salesperson Gary was very professional and knowledgeable about the windows he showed us. The installers were very professional and detailed. We are very satisfied with our dealings with great lakes and will be doing business with them again.
Completed Jobs from Eden Prairie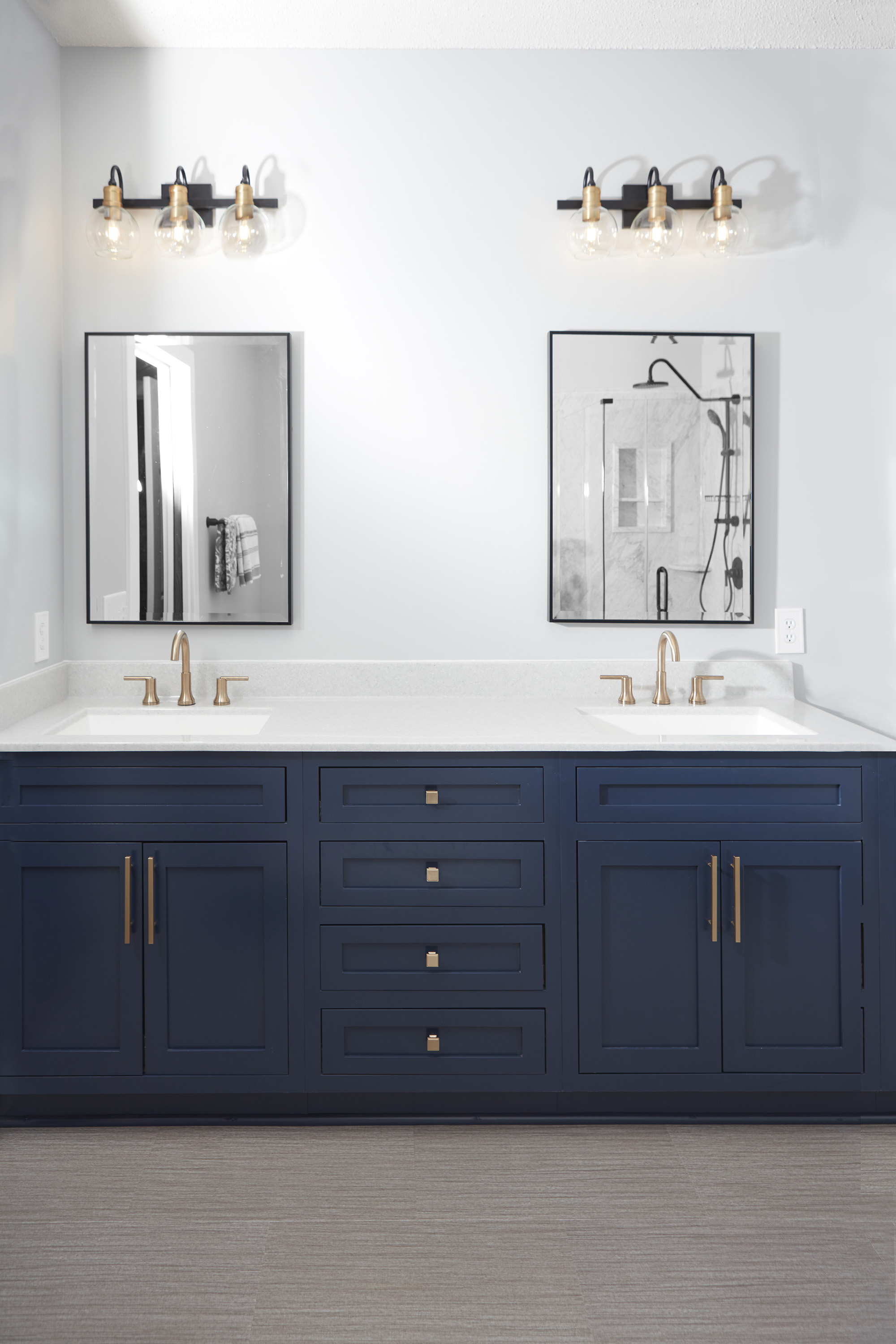 Modern Master Bathroom Remodel in Eden Prairie
August 16, 2021
Many people are not using their over-sized jetted tubs and are very frustrated by the small shower they use every day in the master bath. During this remodel, we removed a large jacuzzi tub that took up the majority of the room and installed a freestanding tub, which allowed us room to install a larger walk-in shower. The walk-in shower is our Re-Bath Classic Carrara Natural Stone. We also installed new Armstrong flooring, Bertch vanity with an Onyx top and all of the fixtures. This was such a fun project we completed, we had professional photography taken of this renovation. The modern and fresh look of this master bathroom remodel is absolutely eye catching in this Eden Prairie home.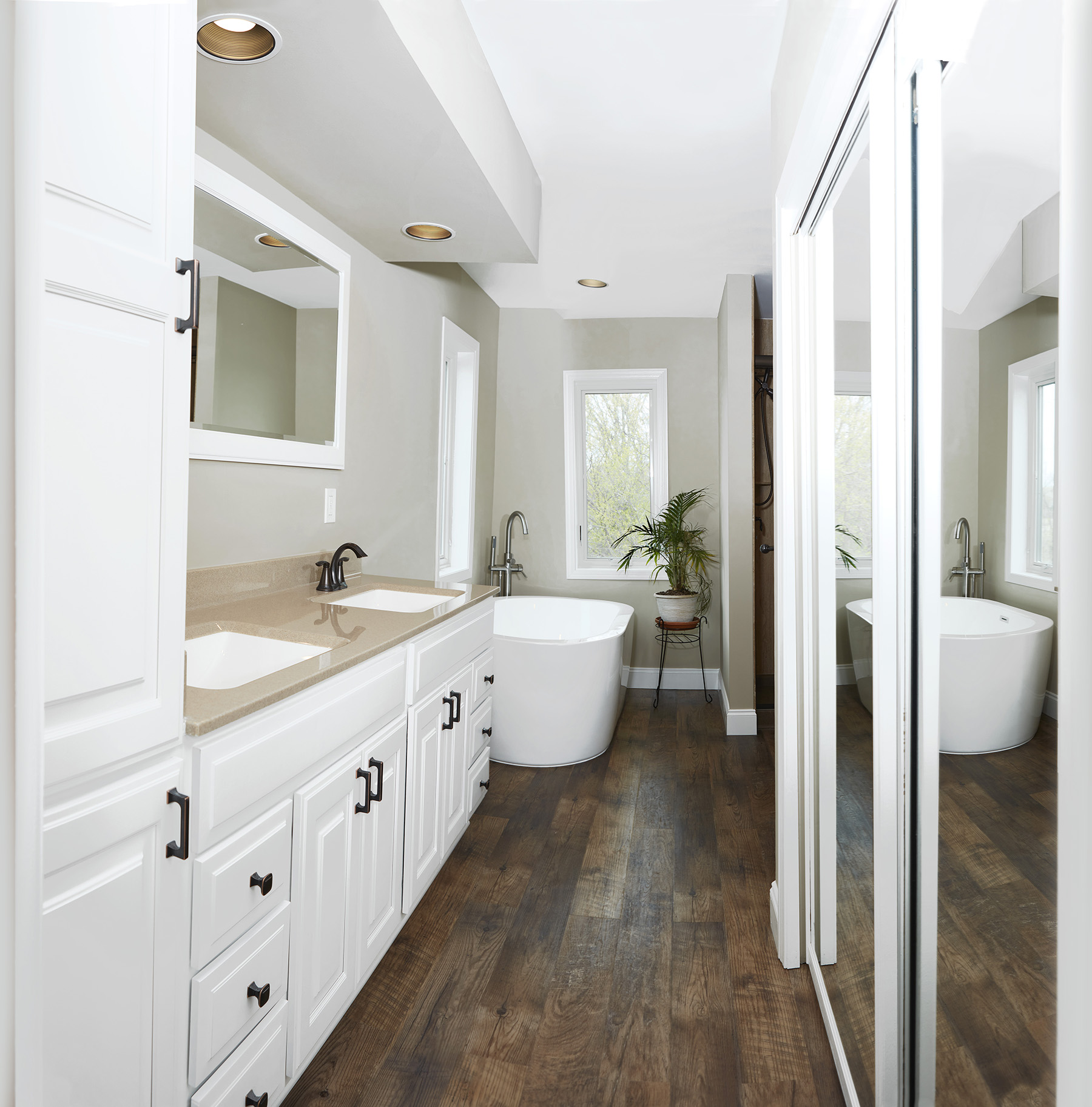 Master Bathroom Renovation in Eden Prairie
June 1, 2021
Many people are not using their over-sized jetted tubs and it takes up too much space. People are also very unsatisfied by the small shower they use every day in the master bath. We completed two-bathroom renovations in this Eden Prairie home; the master bathroom and the upstairs hallway bathroom. In the master bathroom, we removed a corner tub and installed a freestanding tub, which allow the space to open up and install a custom walk-in shower. The new walk-in shower is our Natural Stone, Teakwood with mosaic tile trim. We also installed new flooring and custom vanity and linen cabinets. In the hallway bathroom we also tore everything down to the studs and started over. As you can see, our team totally modernized the bathroom with new flooring, vanity and linen cabinets and tub and surround. The surround is our grout-free Durabath, Ivory Marble surround. This was such a fun project with two-bathroom remodels, we did have professional photography taken of this renovation!